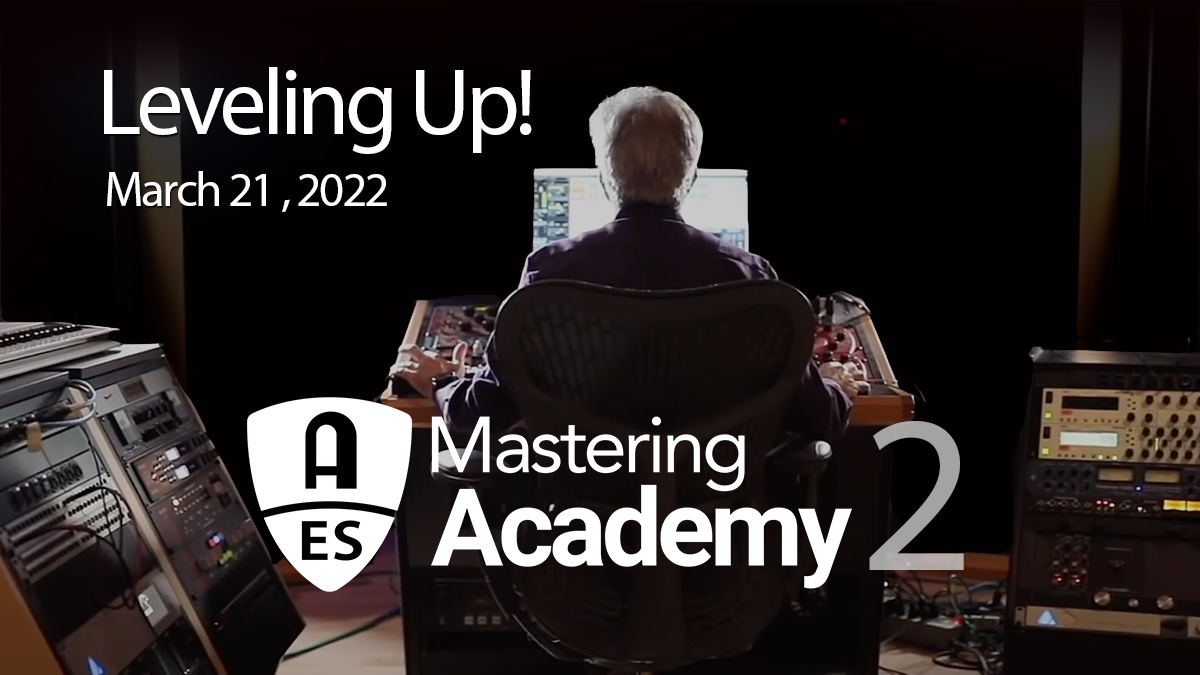 Speakers
Bob Katz

Grammy Award Winning Mastering Engineer

Marking his 50th year as audio professional, Bob Katz has recorded and mastered three Grammy-winning albums and several nominees. He masters all styles of music as president and mastering engineer at Digital Domain, Orlando, FL.

In 1988, Bob became Technical Supervisor and recording engineer for audiophile label Chesky Records. He produced the world's first commercial oversampled recordings with his own custom-built implementation of the DBX ADC. His recordings for Chesky, made direct to 2-track digital, used minimalist miking, were acclaimed for their balance, depth, clarity and purity of tone. In 1997, he recorded the first 96 kHz/24-bit audio-only DVD.

Bob was workshops Chairman of the AES 74th Convention, Facilities Chair of the 79th, and chaired the 1994 NY Section. He spent over a year with his colleagues on the AES Streaming Loudness subcommittee producing AES TD-1008: "Recommendations for Loudness of Internet Audio Streaming and On-Demand Distribution."

His book, "Mastering Audio: The Art and the Science", in its third edition, has been translated to Chinese, German and Spanish. His book, "iTunes Music: Mastering High Resolution Audio Delivery", was released in 2013. He has also written numerous articles and presented many seminars around the world in three different languages.

He has created several digital audio products and has invented and patented the K-stereo and K-Surround Processes, licensed to companies including Weiss Engineering, UAD and Z-Systems. Bob now creates headphone equalizations for Audeze headphones that emulate the sound and response of the loudspeakers in his mastering studio. These equalizations will appear in the Audeze Reveal plugin and in Weiss Engineering's 50X products.

In 2016, Bob Katz was presented with the AES Fellowship Award in recognition of his outstanding contributions to the advancement of professional audio worldwide, over a sustained number of years.

Darcy Proper

Proper Prent Sound LLC

Darcy began her career at Sony Music Studios in New York City in the Classical Department, later focusing her skills on mastering and broadening her musical scope to include all genres from historical reissues to cutting-edge surround releases. In 2005, she moved to Europe serving as Senior Mastering Engineer at Galaxy Studios in Belgium for several years before moving on to Wisseloord Studios in the Netherlands where she currently bases her mastering business.

Elaine Rasnake

Owner & Lead Mastering Engineer -Daughterboard Audio

Elaine holds a B.A. in Music with a concentration in Audio/Video Recording and Vocal Performance from Bloomsburg University of Pennsylvania and is notable for being the first woman to graduate with an audio production degree from Bloomsburg University.
After graduating, she was a touring solo musician for several years and wrote, recorded, produced, mixed, and mastered three albums and two EPs under various monikers. During this time, she began to provide audio production and post-production services to several bands and musicians in her local music scene.
In 2019, Elaine founded Daughterboard Audio, a queer-owned and operated mastering studio located in Philadelphia, PA. Here, she currently focuses on providing audio mastering and post-production services, educating musicians about the importance and art of mastering, and creating a space to help lift the voices of women and LGBTQIA+ members of the music community.

Ian Shepherd

Mastering Engineer

Ian is a UK-based mastering engineer and director of Mastering Media Ltd, with over 25 years professional experience. He runs the popular Production Advice website, and hosts The Mastering Show podcast. In 2010 he founded Dynamic Range Day, an online event intended to raise awareness of the issue of the Loudness Wars. More recently he has been working with MeterPlugs to develop the acclaimed Perception AB and Dynameter plugins, as well as the Loudness Penalty website and plugin.

Ian Stewart

Mastering Engineer, Flotown Studio

Ian Stewart is a mastering engineer and audio educator from the Berkshires of Western Massachusetts where he's operated Flotown Mastering since 2011. Ian received his B.S. in Music Engineering Technology from the University of Miami in 2007 and has been a passionate advocate for audio quality, and for fostering a better understanding of the topics surrounding it, ever since.

Justin Gray

Producer, recording, mix and mastering engineer, Professor of Composition & Audio Production at Humber College, Producer, Bassist, Studio Engineer, & Composer/Arranger

Justin Gray is a producer, bassist, composer, and educator based in Toronto, Canada. As an upright bassist, electric bassist, and Bass Veena player, Justin performs in a variety of traditional and contemporary music ensembles from around the world. Justin is a full-time professor of composition and audio production at Humber College. Justin is also the Program Co-Ordinator for the Music Composition Graduate Certificate at Humber College.

In 2010, Justin invented the Bass Veena, an instrument designed for Indian classical and contemporary world music performance. The instrument was built by renowned Canadian luthier, Les Godfrey. Justin now performs Bass Veena with artists from across the globe. Justin leads his own contemporary world music ensemble Justin Gray & Synthesis, which released their debut album New Horizons, in 2017.

As a producer, recording, mix and mastering engineer, Justin has worked with artists in a wide range of musical styles (synthesissound.com).

Over the course of his career, Justin has received a number of awards and distinctions, including: Nomination for World Music Album of the Year (Aviva Chernick CFMA 2020), Nomination for Best Solo Artist (CFMA 2018), Recipient of Emerging Jazz Artist Award (Toronto Arts Foundation 2015), Recipient of Shanti Chakravarty Award For Excellence in Indian Classical Performance (2015).

Luca Pretolesi

Grammy nominated Mixing and Mastering Engineer

Logging well over 30,000 hours in the studio with over 25 years of experience, Luca's prolific career has lead him to his current status as the world-renowned mixing and mastering engineer he's known as today. With awards ranging from multiple Grammy nominations, Platinum, Diamond, Billboard, and Golden Melody awards as well as founding and creating Studio DMI, his state of the art facility based in Las Vegas, NV USA, Luca and his Studio DMI brand are synonymous with unrivaled quality and style sought out by the biggest names in electronic and pop music.

Luca has had the honor of working with top artists around the globe such as Steve Aoki, Diplo, David Guetta, J Balvin, Snoop Lion, Above & Beyond, G-Dragon, Jolin Tsai and many more. Luca's Grammy nominations include J Balvin & Willy William's "Mi Gente" for Record of the Year, Steve Aoki's "Wonderland" for Best Dance Album, Snoop Lion's "Reincarnation" for Best Reggae Album.

Studio DMI Highlighted Credits: Above & Beyond, Alok, Baby K, Bassjackers, Benny Benassi, BIGBANG, BLACKPINK, Borgeous, Borgore, Bruno Martini, Cedric Gervais, Dada Life, David Guetta, Dillon Francis, Dimitri Vegas & Like Mike, Diplo, DJ Shiftee, DVBBS, Fabio Rovazzi, Flo Rida, FTampa, Gareth Emery, Gianluca Vacchi, G-Dragon, Jason Derulo, J Balvin, Jolin Tsai, Jovanotti, K?D, KSHMR, Kura, Lil Jon, MAKJ, Major Lazer, Merk & Kremont, Morgan Page, Moti, Nervo, NGHTMRE, Paul Oakenfold, Pegboard Nerds, Play-N-Skillz, Rusko, Sandro Cavazza, SAYMYNAME, Snoop Lion, Sofi Tukker, Steve Aoki, TJR, Willy William, Zeds Dead, 2NE1.

Michael Romanowski

Coast Mastering - Berkeley, CA, USA

Michael Romanowski is a Grammy nominated mastering engineer based in the San Francisco Bay Area. He is owner and chief mastering engineer at Coast Mastering and co-owner and founder of the analog tape label The Tape Project. Michael is currently a Trustee of the The Recording Academy San Francisco Chapter (NARAS), Former Chair of the National Presidents Council, former president of the SF Chapter and serves on the National Advisory Council to the Producers & Engineers Wing, and serves on the AES Technical committee.

Since 1994, Michael has worked to support the tradition of the diverse San Francisco sound and has become a national expert in the art and science of mastering (Mix Magazine, Electronic Musician, AES, NAMM, SXSW, Tape Op, Potluck Con, AES Mexico, AES Europe). Michael started his audio career as a musician and live sound engineer in Nashville, where he quickly progressed to recording and mixing pop, rock and alternative acts. In 1994, he relocated to the Bay Area to apprentice at Rocket Lab with Paul Stubblebine and Ken Lee, learning the art and craft of the mastering engineer. In 1999, he became the chief mastering engineer for Sausalito's Plant Studios, in 2001 he reunited with Paul Stubblebine and built two new surround mastering rooms at the former location of Coast Records. In 2007, Michael acquired the mastering business and continued to expand the facility by acquiring Coast Recorders. In 2015, Michael Romanowski Mastering and Coast Recorders merged as Coast Mastering and relocated to the infamous Fantasy Studios Complex in the former Studio C. Working with Acoustician extraordinaire Bob Hodas, The tracking room and former foley room for the Saul Zaentz Media Center, was transformed into an immersive mastering room. Michael has been on the forefront of surround music since 2001, and continues to push the possibilities of immersive audio, working with Dolby, Fraunhofer, Sony and other leading companies to help artists realize the potential of their music in an immersive format and Hi resolution sound to their music fans everywhere.

He currently teaches classes at Pyramind, as well as having taught at San Francisco State University and SAE, and is a guest lecturer at other regional colleges.

Michael's extensive credits include America, Third Eye Blind, G-Love, Pat Monahan, Devotchka, Jeffrey Gaines, Sea of Bees, Chuck Prophet, Train, Peter Case, Zigaboo Modeliste, Alasdair Fraser & Natalie Haas, Los Amigos Invisibles, Pentatonix, Craig Carothers, Laura Pausini, Matt Nathanson, San Quinn, Jacqui Naylor, Pete Ham, Will Kimbrough, Sutro, The Dynamites, Thompsonia, Megan Keely, Bobby Walker, Jinx Jones, Sun Monks, Ant Banks, SF Jazz, Norton Buffalo, Too $hort, Colorado Symphony, Chanticleer, Dredg, The Devil in California, !!!, Junior Toots, Diegos Umbrella, Daddy, Bill Martin, Brendan Smith, Richard Howell, Alexander String Quartet, Bad Finger, Keith Greeninger, Dan Wolf, Antonio Iturrioz, Pfife Dawg, Sara Lovell, Raelyn Nelson Band, Megan Slankard, Chanticleer, Media Hyperium Surround (Sting, Cheryl Crow, Marvin Gaye, Tears for Fears,Soundgarden, Pink, Evanescence, Seal, Yes, Lady Gaga, Alanis Morisette, Matchbox 20, James Blunt), Jeff Larson and Jeff Foskett, Gerry Beckley, Brother Ayouba and several thousand more…

Michelle Mancini

Mastering Engineer at Larrabee Studios

Michelle is a GRAMMY and LATIN GRAMMY nominated mastering engineer. A New York transplant to the wild expanses of Los Angeles, they've had the honor of working with a wide breadth of artists including Common, Jon Batiste, Fitz and The Tantrums, Portugal. The Man, The Chainsmokers, Juice Wrld, Migos, Oliver Tree, Gryffin, Marshmello, Willow, IDKHOW, BANKS, and Camilla Cabello.

Michelle has had the honor of being a resident engineer at Larrabee Studios since 2015.

Shane Slack

Lead Engineer/ Owner & Mastering Engineer

Based out of Central Florida, Shane Slack has exemplified comprehensive knowledge and experience specializing in audio restoration, audio mixing, mastering and content production in a professional freelance position as for companies such as the WWE, Fox Entertainment, USA Network, Output, Samples from Mars, General Dynamics, and the Condé Nast network He is a graduate of Valencia College's Sound & Music Technology program with an Associates in Science while also pursuing further education in acoustics and multimedia specialization(s).

Currently, he is both the lead engineer/ owner of Mono Theory LLC in addition to a part-time assistant mastering engineer at Hacienda Audio, located in Parkland and Orlando respectively, specialising in the fields of audio mastering, psychoacoustics, and post-production sound design. Alongside this, he developed in an educational capacity by providing personalized training and familiarization programs in audio technology.
Introducing the second in the AES Mastering Academy series. This follows on from the highly successful introduction Academy from November.
The AES Mastering Academy 2, March 21, 2022 is a live online event, providing a deeper dive into the process and and techniques of the engineer, with a wide-range of industry professionals who will provide experience, knowledge, advice and guidance.
Included in this event will be Mastering Immersive, Bob Katz Masterclass, Mastering Deconstructed with Michelle Mancini and Luca Pretolesi, plus a Partner workshop.
The AES Mastering Academy 2 provides a unique opportunity to participate in this highly anticipated and focused event.
As we have demonstrations using Audio Movers, numbers are strictly limited.