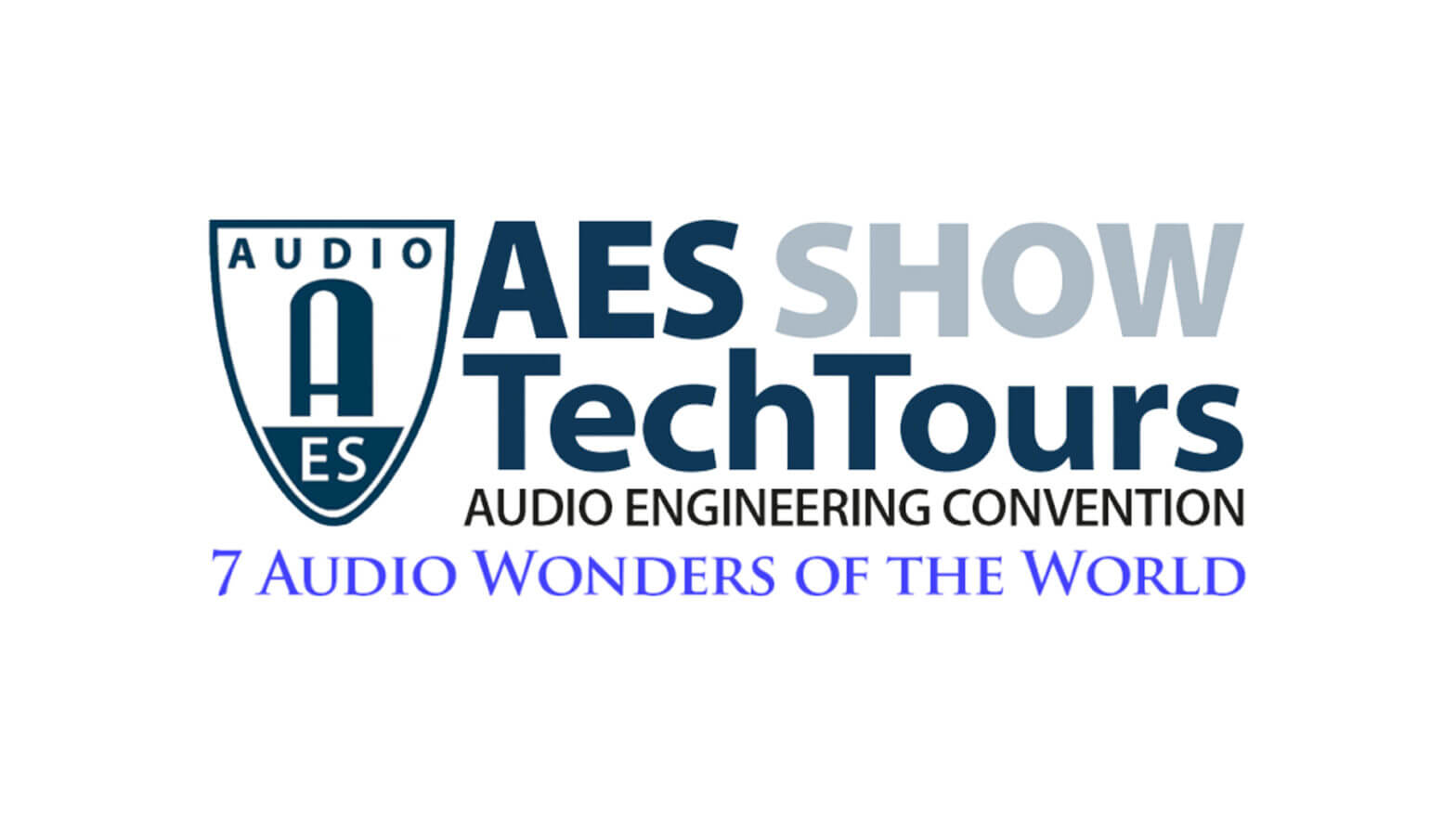 AES TechTours 2020: 7 Audio Wonders of the World

AES TechTours: 7 Audio Wonders of the World Schedule
Don't miss a single one of these exclusive virtual tours. The schedule is broadcast on East Coast time.
Pricing plans and options
AES MEMBER ALL ACCESS
AES Member Only Rate
Full Access to Marquee Events and Technical Program

AES SHOWCASE Education Sessions

AES TechTours: 7 Audio Wonders of the World
AES STUDENT MEMBER
All Access Pass to the AES Showcase & Full Tech Program
Access to the AES STUDENT WEEK

Full Access to Marquee Events and Technical Program

AES SHOWCASE Education Sessions

AES TechTours: 7 Audio Wonders of the World
Hourly Schedule
Skywalker Sound
Oct 8, 12:00pm ET

Skywalker Sound

The pulsating hum of a lightsaber. The thunderous footsteps of a stalking Tyrannosaurus Rex. The awesome roar of Star-Lord's Milano. For more than a generation, Skywalker Sound has created soundscapes that have redefined aural immersion. With origins based in Ben Burtt's landmark work on 1977's Star Wars, Skywalker Sound specializes in sound design, mixing, and audio post-production across multiple mediums. From the gathering of real-life, organic sounds to developing new techniques in sound presentation, Skywalker Sound remains one of the world's most innovative facilities — eager to explore, create, and venture into the unknown.
Galaxy Studios
Oct 15, 12:00pm ET

Galaxy Studios

The GALAXY STUDIOS GROUP is a cluster of companies dedicated to the fine arts of film, music and sound technology. We are situated in Belgium and for more than thirty-five years our studio complex has been a world class beacon of advanced technology for sound recording and film post-production. Seven years ago we expanded the services to include a wide range of film and TV post-production services in sound, picture and music. Our studios originated the ultimate immersive sound format Auro-3D. It is the home base for Auro Technologies its driving force software development company. Our expansive and comfortable Galaxy Studios is truly an exciting work and meeting centre for creative film & music professionals. We are unashamedly passionate technology addicts, proud to be creatively driven by the 7th Art.
The Village Studios
Oct 22, 12:00pm ET

The Village Studios

A full-service recording, mixing and live performance complex housed in a vintage 1920's Masonic Temple in West L.A., the Village Studios is famous for landmark sessions by music's legends across six decades. The Village is where "vintage gear heaven" meets state-of-the-art technology, accommodating orchestras, film scores, rock bands, hip-hop & pop artists – all the way down to single-mic recordings such as voiceovers, audio books and podcasts.
Blackbird Studios, Nashville
Oct 27, 5:00pm ET

Blackbird Studios, Nashville

ALL ACCESS PASS ONLY Founded in 2002 by sound engineer John McBride and his wife, country artist Martina McBride, Blackbird has become one of Nashville's preeminent sound studios. The Blackbird complex now includes nine studios and houses The Blackbird Academy, a post-secondary audio engineering school. Driven by a passion for great audio, Blackbird boasts an attentive, professional staff and a gear inventory second to none.
Abbey Road: LIVE TOUR ONLY - Not available on-demand!
Oct 29, 11:00am ET

Abbey Road: LIVE TOUR ONLY - Not available on-demand!

Abbey Road Studios is the most famous recording studio in the world and a global music icon. Originally a nine-bedroom house built in 1829, it was purchased by the Gramophone Company in 1928 who went on to build the world's first purpose-built recording studio. The St John's Wood address was chosen for its large garden and ideal location – close enough to the performance spaces of the time, but away from the noise and vibrations of the traffic and trains. The grand opening ceremony on 12 November 1931 included a performance of Land of Hope & Glory in Studio One conducted by Sir Edward Elgar. The Gramophone Company merged with Columbia Graphophone Company to form Electric and Musical Industries (EMI) in 1931, and the studios later became known as EMI Recording Studios. Since EMI engineer Alan Blumlein patented stereo at Abbey Road in 1931, the studios have been famed for innovation in recording technology, largely developed by the Record Engineering Development Department (REDD) who were responding to the needs of the artists and producers using the rooms. Their innovations include the REDD and TG desks, as well as studio techniques such as Artificial Double Tracking (ADT), created by studio technician Ken Townsend, who went on to become the studios' MD, as well as Vice President of EMI Studios Group. While initially a venue for classical recordings, the studios' repertoire soon embraced jazz and big bands, too, as well as the first British rock & roll records of the 1950s, including Sir Cliff Richard's first single Move It. Abbey Road is of course synonymous with the legendary work of The Beatles, who worked with EMI producer Sir George Martin and recorded 190 of their 210 songs at the studios. But Abbey Road's unparalleled history spans the wild experiments of Pink Floyd to iconic recordings from Shirley Bassey, Aretha Franklin, The Hollies and many more.
United Recording Studios
Oct 29, 5:00pm ET

United Recording Studios

Some studios carry an indescribable magic, an enchanting aura, as if the spirits of sessions past carry on to bless those to come in the future. Bill Putnam opened such a place in 1957, quickly becoming one of the most legendary recording facilities in the world. With his uncompromising standards, technical brilliance and unparalleled knowledge of acoustics, he built studios that sound like no other. Located on Sunset Boulevard, these magnificent studios have attracted the biggest names in recording history. And the consoles at United Recording have captured melodies that have sold over a billion records worldwide. From Frank Sinatra, Nat King Cole, Ray Charles and Eric Clapton to contemporary artists like Green Day, Radiohead, The Red Hot Chili Peppers and Alabama Shakes, United Recording has played host to generation after generation of music legend. Whether recording original material, engaging in sound design, scoring, mastering, or archiving, United's technically gifted staff understands how to get the most out of their vast array of timeless analog gear and state-of-the-art digital equipment. The facility's unique design and clever ingenuity allows for a creative process that is not only worry free, time sensitive, and productive, but also eminently enjoyable and memorable.
Capitol Studios
Oct 30, 5:00pm ET

Capitol Studios

Since its completion in 1956, Capitol Studios has been a staple of the recording industry. Iconic artists like Frank Sinatra, Nat King Cole and The Beach Boys first gave life to its rooms and to this day, major icons of popular music continue in their wake. Today, Capitol Studios stands on the shoulders of half a century of vision, creativity and imagination. Craft will always be king, perfection will always be the standard the experience will always be uniquely Capitol Studios. Capitol Studios was recently fully refurbished to ensure that we remained a cutting edge, state-of-the-art facility where artisan craft can continue to thrive as it has for the past 60 years.