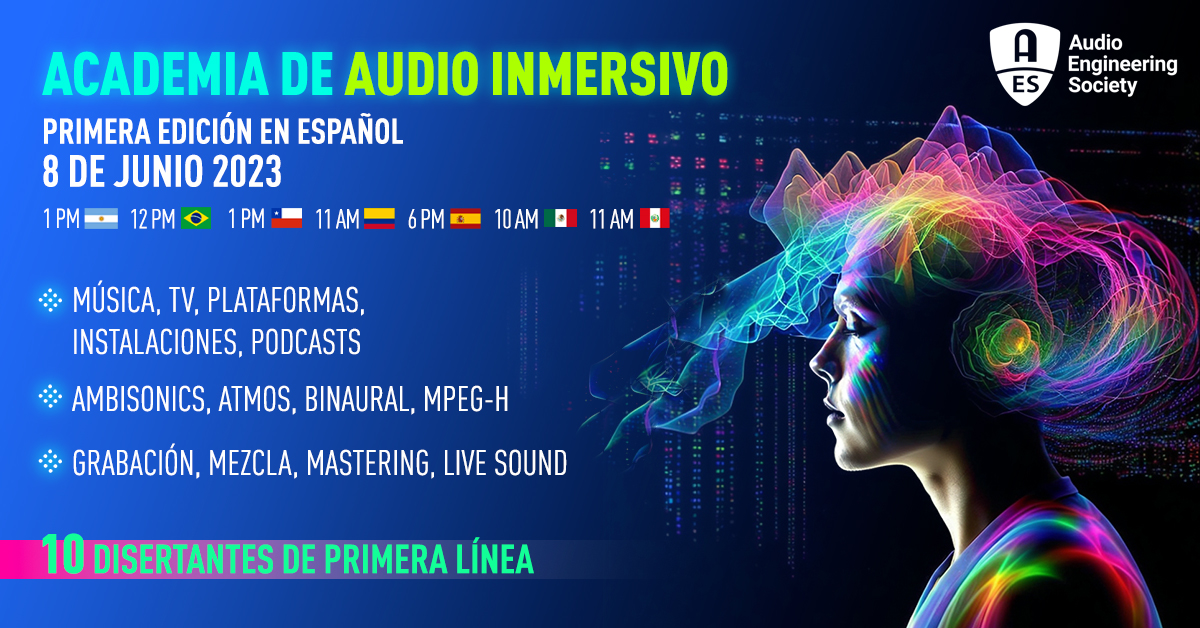 Speakers
Andres Mayo (Chair)

Andres Mayo Immersive Audio

Andrés Mayo, former President of the AES (Audio Engineering Society), is an audio engineer and music producer who has pioneered the art of mastering since 1992. He boasts credits in more than 3,000 albums released in all formats, from vinyl through BluRay. Andres co-chaired the first AES Conference on Audio for Virtual and Augmented Reality (AVAR), held in Los Angeles in 2016, and since then he has been working tirelessly (together with fellow engineer Martin Muscatello) in the development of techniques and workflows for immersive music production.
Andres Mayo Immersive Audio boasts a Dolby Atmos – Neumann room and caters for all sorts of deliverables, from 360° podcasts and commercial ads through documentaries and music productions.
Member of the P&E Wing Advisory Council at NARAS, Andres is a 2-time GRAMMY and 7-time Gardel Award winner.

Christopher Manhey

Christopher Manhey es un artista sonoro y productor musical nacido en Chile con una carrerade 15 años en Sudamérica, México, Estados Unidos y actualmente en Europa dedicado a laproducción de sonido espacial y sus diferentes aplicaciones.Ganador de dos Latin Grammys, su trabajo también ha sido reconocido y premiado eninstancias como los Grammy, Cannes y Sundance. En 2017 fundó el estudio"La Salitrera"para desarrollar proyectos relacionados con música y tecnología como la"primerafirma dediscos en VR del mundo con Google Tilt"y un concierto desde el Metaverso conOtherlandMusic.En 2021 Manheyse convirtió en el primer productor en Chiley pionero en Latam en realizaruna producción musical con la tecnología "Dolby Atmos". También es productor artístico yconsultor para"Monom"centro cultural y laboratorio de sonido inmersivo en Berlín. Ademásha estado desarrollando instalaciones para festivales y shows en vivo con Meyer Sound y susistema "Spacemap Go" como lo fue laconmemoración de los 10 años del ObservatorioAlma.En 2022 funda"Omni Soundlab"estudio certificado por Dolby Atmos dedicado a laproducción musical y también a la investigación y desarrollo de soluciones para shows envivo e instalaciones con sonido espacial

Francisco Bissone

Licenciado en psicología, diseñador sonoro y mezclador. Se ha especializado en edición y mezcla multicanal para producciones de cine, TV, publicidad y medios interactivos. En los últimos años, se ha dedicado al estudio y aplicación de tecnologías innovadoras en audio inmersivo para música, audiovisuales y realidad virtual. Es docente en la carrera de Diseño de Imagen y Sonido de la Universidad de Buenos Aires, en la Tecnicatura en Sonido Audiovisual de la UNSO, y de Audio Inmersivo en Image Campus y Escuela AudioVisual., Es miembro activo de AES y de ASA (Asociación Argentina de Sondistas Audiovisuales)

Ianina Canalis

Spatial Audio Specialist, Meyer Sound

Ianina Canalis worked as a sound engineer for live shows on tours with different bands in Argentina and Latin America. At the same time, she was a teacher and researcher at the Universidad Nacional de Lanús, Argentina. She completed a master's degree in Audio Engineering in UK and from there she began working with immersive audio technologies.
She developed ISSP (Immersive Sound System Panning) an immersive audio software for mixing live shows. She currently works for Meyer Sound where she is part of the team that develops Spacemap Go.

Ianina Canalis es Application Architect – Spatial Audio Specialist – en Meyer Sound y es miembro del equipo que desarrolla Spacemap Go. Antes de unirse a Meyer Sound, Ianina era docente de sonido en vivo en la Universidad Nacional de Lanús y trabajaba como ingeniera de sonido con grupos musicales en tour por Argentina y Latinoamérica. Realizó un máster en ingeniería de audio en la Universidad de Leeds Beckett, UK donde comenzó en 2018 el desarrollo de ISSP – Immersive Sound System Panning- una herramienta interactiva para mezclar sonido en vivo en sistemas envolventes.

Ivo Markovic

Lic. en Audiovisión (UNLa) y especializado en grabación y mezcla de música en The Banff Centre (Canadá). Postproducción de sonido para Cine y TV, para TODD-AO, Sounddogs y Sound Ideas. Co-fundador de IAS – Immersive Audio Solutions, donde se especializa en Audio Inmersivo.
Disertante de workshops, capacitaciones y seminarios tanto a nivel nacional como latinoaméricano para instituciones como UDLA (Ecuador), TEC de Monterrey (México) y las últimas ediciones de la AES LAC, entre otros. Guest Lecturer para el Master in Music Production Technology and Innovation de Berklee Valencia.

Jose Javier Lopez Monfort

Marcela Rada

Marcela Rada is an accomplished audio engineer who has experience both in the studio and in the classroom, teaching university-level students the skills of becoming professional audio engineers and music producers. She has worked across music genres recording, editing, mixing, and mastering audio for independent artists. But unlike most engineers out in the world, she has experience in and passion for creating immersive audio environments using software and speaker configurations that can be utilized both in live rooms as well as on recordings.

Marcela has extensive knowledge of recording and mixing audio techniques in various formats such as stereo, surround, and immersive; experience with sound design; virtual reality content creation; signal processing; and various Digital Audio Workstations.

Marcela has also taught Recording Engineering Production in the Music Industry Arts program at Algonquin College, the Music Production Online Summer Camp at Interlochen Center for the Arts; and she is currently teaching audio related courses at the University of Lethbridge.

Marcela s una ingeniera de audio experimentada que cuenta con experiencia tanto en el estudio como en el aula. Ha enseñado a estudiantes universitarios las habilidades necesarias para convertirse en ingenieros de audio y productores musicales profesionales. Ha trabajado en diversos géneros musicales grabando, editando y mezclando audio para artistas independientes. Sin embargo, a diferencia de la mayoría de los ingenieros en el mundo, Marcela tiene experiencia y pasión por crear entornos de audio inmersivos utilizando software y configuraciones de altavoces que pueden ser utilizadas tanto en salas en vivo como en grabaciones. Marcela ha enseñado ingenieria de sonido en el programa de Industria de la Música en el Algonquin College, así como en el Music Production Online Summer Camp en el Interlochen Center for the Arts y en Berklee College of Music. Actualmente, imparte cursos relacionados con el audio en la Universidad de Lethbridge en Canadá.

Martín Muscatello

Martín Muscatello es un destacado productor musical e ingeniero radicado en Buenos Aires. Con una formación en EMBA y una amplia experiencia en El Pie Recording Studios, ha obtenido créditos en numerosos álbumes. Desde 2005, Martín ha trabajado como ingeniero de grabación y mezcla independiente, colaborando con artistas tanto locales como internacionales. Actualmente, se asocia con Andrés Mayo como ingeniero de mezcla, masterización y Dolby Atmos. Sus esfuerzos conjuntos incluyen investigaciones pioneras y el desarrollo de herramientas y técnicas innovadoras para la producción de audio inmersivo. Además, Martín comparte su experiencia como profesor en la prestigiosa Escuela de Música de Buenos Aires, donde imparte el tercer año de la carrera de Producción Musical.

Maurício Gargel

Maurício Gargel is a mastering engineer with a master's degree in Arts from Middle Tennessee State University (MTSU). Gargel is a professional who uses few elements in order to achieve the maximum result. The minimalist style provides a balance between high sound quality and total artistic control. The studio located in the heart of the west side of the city of São Paulo has the latest technology in a room with perfect acoustics.

Among the clients of Maurício Gargel Audio Mastering are big names in national music such as Arnaldo Antunes, Emicida, Dani Gurgel, Banda Inquérito, Titãs, Karol Conka, Baiana System as well as international clients.

Salvador Tercero

·Egresado con honores del Institute of Audio Reseach en 1984, en la ciudad de Nueva York, USA.
·Licenciado en Audio Profesional en el 2017 del Centro de Educación Tecnológica y Arteen la Ciudad de México 2017. (Cedula Profesional: 11087307)
·Maestría en Administración de Instituciones Educativas del Instituto de Estudios Universitarios de la Ciudad de Puebla 2021. (Cedula Profesional: 12815237)
·Cuenta con Certificaciones de Instructor de AVID, niveles 101,110, 201, 210M, 210P Venue 110, y Venue 210.
·Desde 1984 es miembro y participa activamente como conferencista de la Audio Engineering Society, en las secciones México, América Latina, y la sección internacional.
·Es socio fundador de Sala de Audio desde 1999 se han titulado más de 700 ingenieros de audio y más de 1500 egresados de diplomados, y certificaciones oficiales Avid y Dolby.
2023 Immersive Audio Academy – 1st Edition in Spanish

Academia de Audio Inmersivo
AES Immersive Audio Academy – 1st edition in Spanish

Join us at noon EDT, June 8, 2023, for the very special 1st edition of the AES Immersive Audio Academy in Spanish! 10 top-notch presenters will address all the main topics of Immersive Audio today: Music Recording, Mixing and Mastering, Audio for OTT, Movies & Podcasts, Ambisonics, Atmos, MPEG-H, Binaural. A 6-hours-long event exclusively focused on immersive sound. Chairman: Andrés Mayo
Reminder: This is an International event that will be conducted entirely in Spanish, with no translation into English.
El jueves 8 de Junio a las 12 del mediodía (hora de New York) tendrá lugar la 1ra edición de la Academia AES de Audio Inmersivo en Español! 10 presentadores de primera línea hablarán de los  principales temas relacionados al Audio Inmersivo actual: Grabación, Mezcla y Masterización de Música, Audio para OTT, Cine y Podcasts, Ambisonics, Atmos, MPEG-H, Binaural. Un evento de 6 horas de duración exclusivamente enfocado en el sonido inmersivo. Moderador: Andrés Mayo
Thursday, June 8th, 2023
Online
Noon – 6PM Eastern Daylight Time (UTC-4)
JOSE JAVIER LOPEZ MONFORT
(Ambisonics explicado en detalle) (Ambisonics explained in depth)
MARTÍN MUSCATELLO, IVO MARKOVIC, MARCELA RADA, SALVADOR TERCERO
(Técnicas de mezcla inmersivas) (Immersive mixing techniques)
IANINA CANALIS
(Audio Inmersivo para Live Sound) (inmersive live sound)
FRANCISCO BISSONE
(formatos de entrega para TV y OTT) (delivery formats for TV & OTT)
MAURICIO GARGEL & CHRIS MANHEY
(instalaciones con audio inmersivo) (immersive audio for installations)