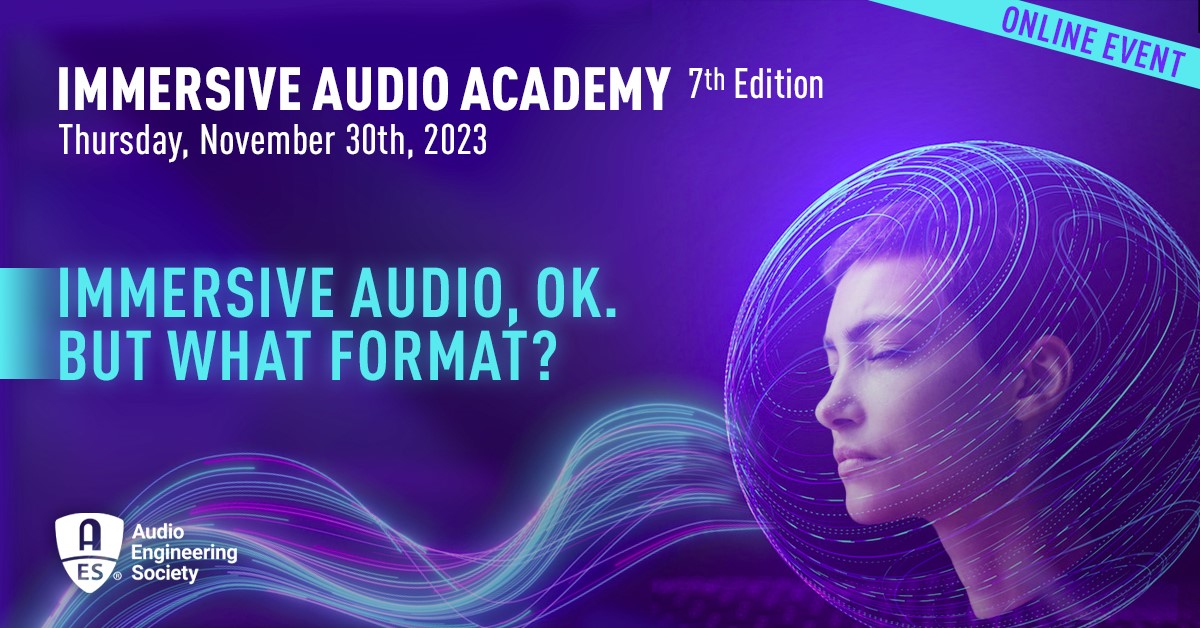 Speakers
Andres Mayo (Chair)

Andres Mayo Immersive Audio

Andrés Mayo, former President of the AES (Audio Engineering Society), is an audio engineer and music producer who has pioneered the art of mastering since 1992. He boasts credits in more than 3,000 albums released in all formats, from vinyl through BluRay. Andres co-chaired the first AES Conference on Audio for Virtual and Augmented Reality (AVAR), held in Los Angeles in 2016, and since then he has been working tirelessly (together with fellow engineer Martin Muscatello) in the development of techniques and workflows for immersive music production.
Andres Mayo Immersive Audio boasts a Dolby Atmos – Neumann room and caters for all sorts of deliverables, from 360° podcasts and commercial ads through documentaries and music productions.
Member of the P&E Wing Advisory Council at NARAS, Andres is a 2-time GRAMMY and 7-time Gardel Award winner.

Andrew Scheps

Andrew Scheps

Andrew Scheps has engineered and mixed some of the biggest bands in the world: Green Day, Red Hot Chili Peppers, Weezer, Audioslave, Black Sabbath, Metallica, Linkin Park, Hozier, Kaleo and U2. He's worked with legends such as Johnny Cash, Neil Diamond and Iggy Pop, as well as indie artists such as Low Roar, My Brightest Diamond, Motorpsycho, Rancid, Manu Chao, Tinariwen, Farao, CRX, Cass McCombs and Blood Red Shoes. Andrew has been awarded Grammys for his work with Adele, Red Hot Chili Peppers and Ziggy Marley, and his work has garnered over 20 nominations in categories such as Best Rock Song, Best Rock Album and Best Hard Rock Performance. In addition, Andrew was named International Engineer of the Year Award by the UK's Music Producers Guild. Though starting out as a musician, Andrew found that what he enjoyed most was working behind the scenes. He toured with Stevie Wonder and Michael Jackson, but he found his home in the studio, working for producers such as Rob Cavallo, Don Was and Rick Rubin. He has also produced Favez, Gogol Bordello, The Duke Spirit, Motorpsycho, Marti Pellow, and Low Roar among others. In 2011 Andrew started Tonequake Records, a boutique indie label with acts including Low Roar, Favez, Fellow Robot, Act Rights, and Jeff Babko. After 25 years in Los Angeles, Andrew relocated to the UK in July 2015 where he set up his own mix room which is now equipped for Dolby Atmos Music. He was awarded an honorary doctorate from the University of Huddersfield in 2022. He also develops custom software for controlling Pro Tools to make his life easier. He hasn't left his house a whole lot since March 2020.

Bob Clearmountain

After playing bass for bar bands as a teenager, Bob Clearmountain began his recording career in 1972 as an assistant engineer at New York's Mediasound Studios where he quickly graduated to recording and mixing engineer, working mostly with R&B artists of the 70's. In 1977 he became head recording engineer at the newly formed Power Station Studios which he helped design and build. He soon began producing artists and became one of the first engineers to become in demand exclusively as a Mixer.

He now owns two studios: his home studio, Mix This! and The Apogee Studio which is part of his wife Betty Bennett's company, Apogee Electronics.

After mixing for stereo and 5.1 surround formats for well over twenty years, he's become a pioneer mixing music for Dolby's "Atmos" and Apple Music's "Spatial Audio" formats.

Highlights as Producer: Four Bryan Adams albums; two Jonatha Brooke albums; Hall & Oates' 1984 album Big Bam Boom; Paul McCartney's Tripping the Live Fantastic album; The Pretenders' Get Close album; Simple Minds' Once Upon a Time album; and The Who's Join Together live album and live concert broadcast from Los Angeles.

Highlights as Mixer include Roxy Music's Avalon album; The Rolling Stones albums Tattoo You and Stripped, their many live albums and concert videos including The Brussels Affair, Live Licks, Havana Moon (in Cuba), their Martin Scorsese-directed film "Shine A Light", as well as their singles "Miss You", and "Start Me Up"; several Bruce Springsteen albums and concert videos, including Bruce on Broadway, Western Stars, Born in the USA, Tunnel of Love; INXS's Kick album; Toto's 40 Trips Around the Sun and Kingdom of Desire albums; Gregg Allman's Southern Blood album; The Pretenders' Last of the Independents album and "I'll Stand By You" single; David Bowie's Let's Dance album (which he also recorded); Chic's Le Freak and Sister Sledge's We Are Family albums.

He was one of the main mixers for the 1985 "Live Aid" concert from JFK Stadium in Philadelphia, the second "Prince's Trust" concert from Wembley Arena, he was the audio producer for the "Concert for Nelson Mandela" from Wembley Stadium, among many other music concert broadcasts.

For Dave Grohl and The Foo Fighters he recently recorded "The Tribute to Taylor Hawkins" from London's Wembley Stadium and mixed it for a live stream on Paramount+. He then recorded basically the same show with a few different artists from The Los Angeles Forum.

He recently recorded and mixed the 2022 "Rock & Roll Hall of Fame" HBO broadcast from the Microsoft Theater in Los Angeles and post-mixed the "Tribute to the Beach Boys" show for CBS & Paramount+ from the Dolby Theater in Los Angeles.

George Massenburg

Associate Professor, Sound Recording & Audio Pioneer

George Massenburg is a recording engineer and inventor. In 1972, he authored a technical paper entitled "parametric equalization" which was presented at the 42nd convention of the Audio Engineering Society. Massenburg participated (individually and collaboratively) in over four hundred record albums over the past 45 years. His work includes recordings of Earth, Wind & Fire, James Taylor, Billy Joel, Toto, Dixie Chicks, Journey, Madeleine Peyroux, Little Feat, Weather Report, Randy Newman, Lyle Lovett, Aaron Neville, Kenny Loggins, Mary Chapin Carpenter, Linda Ronstadt, Herbie Hancock, The Seldom Scene, and many more. He has designed, built and managed several recording studios, notably ITI Studios in Hunt Valley, Maryland, Blue Seas Recording in Baltimore, and The Complex in Los Angeles. In addition, he has contributed to the acoustical and architectural design of many other studios, including Skywalker Sound and The Site in Marin County, California.

Hyunkook Lee

Hyunkook Lee is Professor of Audio and Psychoacoustic Engineering and the Director of the Applied Psychoacoustics Laboratory (APL) and the Centre for Audio and Psychoacoustic Engineering (CAPE) at the University of Huddersfield, UK. His research areas include the perception, recording, rendering and reproduction of 3D immersive audio, virtual acoustics and binaural audio synthesis, and immersive audio experience. Before joining Huddersfield in 2010, he was a Senior Research Engineer with LG Electronics in South Korea, where he contributed to MPEG audio codec standaridzation activities and developed spatial audio algorithms for mobile devices. He received a bachelor's degree in music and sound recording (Tonmeister) from the University of Surrey, UK, in 2002 and a PhD in spatial audio psychoacoustics from the Institute of Sound Recording at the same University in 2006. Hyunkook is a Fellow of the AES, a Technical Associate Editor of the AES Journal and the Vice Chair of the AES High-Resolution Audio Technical Committee. He was the co-chair of the 2023 AES International Conference on Spatial and Immersive Audio.

Leslie Ann Jones

Director of Music Recording and Scoring, Skywalker Sound

Leslie Ann Jones has been a recording and mixing engineer for over 40 years.
Starting her career at ABC Recording Studios in Los Angeles in 1975, she moved to San Francisco in 1978 to accept a staff position at the legendary Automatt Recording Studios. From 1987 to 1997 she was a staff engineer at Capitol Studios located in the historic Capitol Records Tower in Hollywood. In February of 1997 she returned to Northern California to accept a position as Director of Music Recording and Scoring with Skywalker Sound, where she continues her engineering career recording orchestral scores, mixing film and video elements and recording and producing music albums. Leslie is a past Chair of The Recording Academy's Board of Trustees, serves on several advisory boards, and has been both a trailblazer and role model for women in a field largely dominated by men.

Ronald Prent

Ronald Prent started his career at Wisseloord Studios in the Netherlands in 1980 as an inexperienced assistant and has since established himself as one of the most accomplished and innovative recording & mix engineers in the world. In the early years of surround sound, Ronald was a "test pilot" for Sony & Philips' DSD/SACD format and many of the projects that he mixed in those days are still held up as benchmark examples of creative surround mixing. Ronald has now expanded into immersive sound, pioneering in mixing and playing a key role in the development of new technology used in progressive formats such as Auro3D, Dolby Atmos, and Sony360RA. Some of his recent projects include immersive releases for artists Ozark Henry, Tiësto, Prash Mistry, and Giveon. His efforts were rewarded with a nomination for a Grammy Award for Best Immersive album in 2018. Not one to be limited to the studio, Ronald also puts his talents to work in live broadcast, mixing live in stereo and surround/immersive for chart-topping clients around the world.

Steve Genewick

Recording Engineer

Grammy-nominated recording engineer Steve Genewick has 30 years of experience, both as a studio and live recording and mix engineer. Steve has had the pleasure of working at iconic recording studios around the world such as United Recording, East West Studios, Sunset Sound and Village Recorders in Los Angeles, Abbey Road and Angel studios in London and La Fabrique Studios in France.

For 20 years, Steve had the great honor of working alongside the legendary 23-time Grammy award-winning producer and engineer, Al Schmitt. They worked with artists such as Diana Krall, Chris Botti, Gladys Knight, Neil Young, George Benson, Quincy Jones, Burt Bacharach and Paul McCartney. Steve also joined Al for "Mix With The Masters" seminars for nine years in the south of France, in addition to collaborating on their instructional film "The Art of Recording a Big Band".

Steve worked primarily out of the famed Capitol Studios in Hollywood as a staff engineer from 1994 to 2022. At Capitol, he worked with countless renowned artists such as Elton John, Bastille and Trisha Yearwood. Steve was among the first studio mixers to begin mixing music in Dolby Atmos, working on projects with Beck, Gregory Porter, LL Cool J, Sam Smith and Niall Horan, and on the popular video game Apex Legends.

In 2017, Steve received the Pensado Award for Best Recording Engineer. He was also a part of the Universal Audio and Capitol Studios team that won a 2020 TEC Award for their Capitol Chambers plugin.
AES 2023 Immersive Audio Academy 7th Edition

(Please note the time listed above is in EST).

Join us on November 30, 2023 for the 7th edition of the AES Immersive Audio Academy! This event will be held live online.

Immersive Audio is entering a new stage of maturity, with many new software tools for different applications, some of them including AI. But practitioners are still facing the same difficulties, from preproduction all the way through delivery. Producing good quality content is still a challenge in any format. These world-known specialists will share their expertise in Dolby Atmos, MPEG-H, Spatial Audio, Sony 360 Reality Audio, Binaural and Ambisonics.

Presenters
Bob Clearmountain, Steve Genewick, Hyunkook Lee, George Massenburg, Ronald Prent, Andrew Scheps
Introduction
Leslie Ann Jones
Chair
Andres Mayo