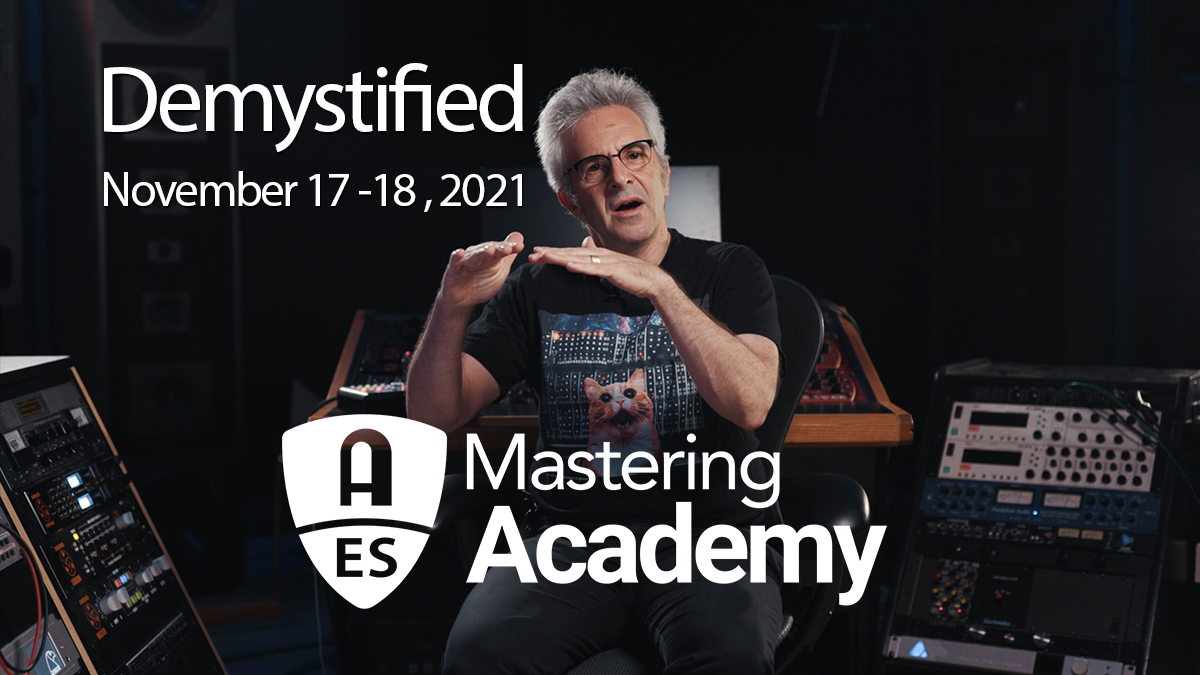 Speakers
Cory Goldsmith, PhD

Senior Software Developer at iZotope, Inc.

Graduated from the University of Georgia in 2012 with a BS in Chemistry and a minor in Mathematics. My doctoral work focused on theoretical chemical physics research in the Becker AMO group in JILA at University of Colorado Boulder, particularly specializing in analytical and numerical solutions to differential equations. My current focus is developing music production and performance technologies.

Dave Herlihy

Attorney

Since 1993, David has maintained an intellectual property/new media/entertainment law practice in Newton, Massachusetts. He received a B.A., in Political Science, from Boston College in 1979 and a Juris Doctor from Boston College Law School in 1982.

Elaine Rasnake

Owner & Lead Mastering Engineer -Daughterboard Audio

Elaine holds a B.A. in Music with a concentration in Audio/Video Recording and Vocal Performance from Bloomsburg University of Pennsylvania and is notable for being the first woman to graduate with an audio production degree from Bloomsburg University.
After graduating, she was a touring solo musician for several years and wrote, recorded, produced, mixed, and mastered three albums and two EPs under various monikers. During this time, she began to provide audio production and post-production services to several bands and musicians in her local music scene.
In 2019, Elaine founded Daughterboard Audio, a queer-owned and operated mastering studio located in Philadelphia, PA. Here, she currently focuses on providing audio mastering and post-production services, educating musicians about the importance and art of mastering, and creating a space to help lift the voices of women and LGBTQIA+ members of the music community.

Ian Shepherd

Mastering Engineer

Ian is a UK-based mastering engineer and director of Mastering Media Ltd, with over 25 years professional experience. He runs the popular Production Advice website, and hosts The Mastering Show podcast. In 2010 he founded Dynamic Range Day, an online event intended to raise awareness of the issue of the Loudness Wars. More recently he has been working with MeterPlugs to develop the acclaimed Perception AB and Dynameter plugins, as well as the Loudness Penalty website and plugin.

Ian Stewart

Mastering Engineer, Flotown Studio

Ian Stewart is a mastering engineer and audio educator from the Berkshires of Western Massachusetts where he's operated Flotown Mastering since 2011. Ian received his B.S. in Music Engineering Technology from the University of Miami in 2007 and has been a passionate advocate for audio quality, and for fostering a better understanding of the topics surrounding it, ever since.

Joel Stoner

Founder of Studio Suite

Justin Perkins

Mastering Engineer

Justin is a mastering engineer based in Madison, Wisconsin who has worked on remastering projects for The Replacements, Ol' Dirty Bastard, Busta Rhymes, En Vogue, and mastering projects for Michael Franti & Spearhead, North Mississippi Allstars, G. Love, Tommy Stinson, The Gaslight Anthem, Beach Bunny Anberlin, Screeching Weasel, and thousands of other independent bands and artists around the world.
Before transitioning to mastering full-time he also spent time at Butch Vig's Smart Studios in Madison Wisconsin recording and mixing a number of projects, and has been working full-time in the audio field for nearly 20 years. His studio Mystery Room Mastering has been in business since 2009.
Growing up and playing in bands in the midwest is what helped Justin formulate a career in audio and ultimately led to playing bass for a time in the band Screeching Weasel, as well as playing bass for Tommy Stinson's solo shows, and the relaunch of Tommy Stinson's post-Replacements band called Bash & Pop who released a new album in 2017 on Fat Possum Records and performed on The Late Show with Stephen Colbert.
Aside from mastering tons of singles, EPs, and albums, Justin also masters nearly all the content for The License Lab which is a library music company based in Milwaukee Wisconsin, and recently started doing a monthly livestream for Steinberg Media to help both new and current users of WaveLab Pro get a better understanding of how to use it.
Justin has also written a number of articles for the popular website The Pro Audio Files on the topic mastering, preparing for mastering, and an overview of what types of master files you may need for various release formats.

Matthew Azevedo

Staff Scientist, Acentech; Mastering Engineer, Azevedo Audio

With degrees in sound recording technology and architectural sciences, Matt Azevedo brings the best of both worlds to his role as an acoustics consultant at Acentech.
Leveraging his extensive experience as a musician and audio/mastering engineer, Matt developed Acentech's 3DListening software platform that the firm uses in its project work.3DListening is a sound simulation technology that uses computer modeling to design and listen to the acoustics of a space before it is built.
Matt's consulting projects focus on architectural acoustics, sound isolation, and mechanical system noise control for a variety of project types, including media production studios, performance spaces, academic spaces, government and public facilities, and residential and corporate environments.
SOUND AND MUSIC
Outside the office, I am an active performer with a composition and performance practice based on custom-designed analog synthesizers and loudspeaker arrays. My most recent LP, Aokigahara, was released on Type Recordings in 2015.

Oscar Zambrano

Chief Engineer

Oscar Zambrano was born and raised in Mexico City. After graduating from Berklee College of Music in 2003, he moved to New York where he started working at Sound on Sound. In 2004 he and Jorge Castellanos founded Zampol Productions, a recording studio that focuses on mastering, mixing, and recording. Throughout his career, albums Oscar has worked on have won 3 Grammy awards, been nominated for 11 additional Grammys, and have earned multi-platinum status through the RIAA.
Oscar has worked with Esperanza Spalding, Harry Styles, Sting, Kelly Clarkson, Zoe, Justin Timberlake, Pablo Ziegler, Miley Cyrus, Max Richter, Winton Marsalis, DJ Khaled, Marco Antonio Solis, Pedro Giraudo, Nass, I'm With Her, Death Cab for Cutie, Miguel, Arizona, Prince Royce, The Shins, La Santa Cecilia, Blake Shelton, Rascal Flats, War on Drugs, Belanova, Phoenix, Train, Portugal The Man, Wyclef Jean, Arcade Fire, Jack Johnson, Fifth Harmony, DMX, TLC, St. Vincent, Charlie Puth, Alejandro Sanz, Juanes, to name a few.

Piper Payne

Mastering Engineer, Infrasonic

Piper Payne is a mastering engineer based out of Nashville, TN and Oakland, CA. In Spring of 2019 Piper joined the Infrasonic Mastering team, merging her successful studio, Neato Mastering, with the Nashville based company, owned by Pete Lyman. She began her career with a BFA in Audio from The University of Michigan, continuing her graduate education in Audio at the University of Stavanger in Norway. She has apprenticed under some of the best-known Mastering and audio mentors in the world, including Bob Katz in Orlando and Michael Romanowski in San Francisco.

In addition to mastering, Piper is a Trustee of the Recording Academy (GRAMMYs) and she serves on the P&E Wing Steering Committee and the Advisory Council. She is a Governor of the Audio Engineering Society and she is the Co-Founder and Co-Chair of the AES's Diversity & Inclusion Committee as well as an active member of Women's Audio Mission and she serves on the Board of SoundGirls.org.

Piper has a diverse background in musical styles. As a drummer, she knows that the best outcome of every project is that it has to feel good. As an engineer, Piper is focused on technical quality and correctness. But, at the end of the day, mastering is about format conversion and quality control so the project gets just what it needs.

Shane Slack

Lead Engineer/ Owner & Mastering Engineer

Based out of Central Florida, Shane Slack has exemplified comprehensive knowledge and experience specializing in audio restoration, audio mixing, mastering and content production in a professional freelance position as for companies such as the WWE, Fox Entertainment, USA Network, Output, Samples from Mars, General Dynamics, and the Condé Nast network He is a graduate of Valencia College's Sound & Music Technology program with an Associates in Science while also pursuing further education in acoustics and multimedia specialization(s).

Currently, he is both the lead engineer/ owner of Mono Theory LLC in addition to a part-time assistant mastering engineer at Hacienda Audio, located in Parkland and Orlando respectively, specialising in the fields of audio mastering, psychoacoustics, and post-production sound design. Alongside this, he developed in an educational capacity by providing personalized training and familiarization programs in audio technology.
AES Mastering Academy – Demystified

Introducing the first in the AES Mastering Academy series. A new event format focused on training and development.
This two day live online event provides an introduction to the discipline with explorations on current and evolving mastering practices and technologies. The Academy includes a wide-range of industry professionals who will provide experience, knowledge, advice and guidance.
The following events in the series will dive deeper into each element, with tutorials and masterclasses.
The AES Mastering Academy provides a unique opportunity to partner and participate in this highly anticipated and focused event.
Following the streamcast days, the sessions, together with partner training and solution presentations will be available on-demand to registrants for up to 2 months.