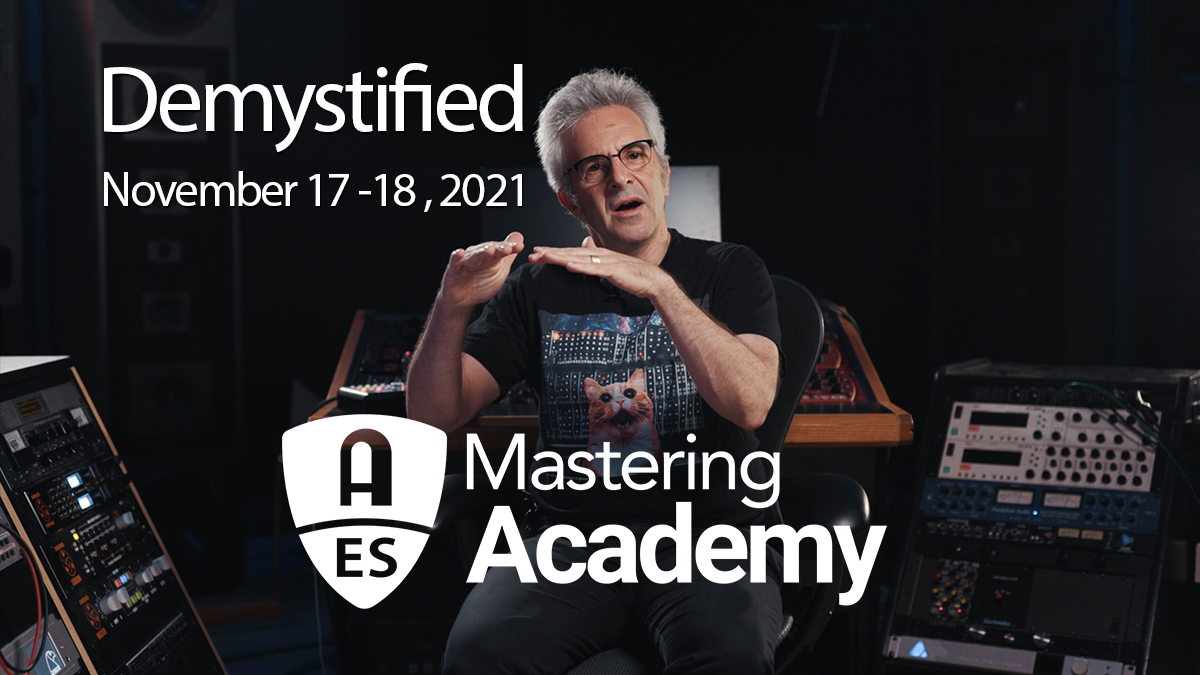 AES Mastering Academy – Demystified

Introducing the first in the AES Mastering Academy series. A new event format focused on training and development.
 
This two day live online event provides an introduction to the discipline with explorations on current and evolving mastering practices and technologies. The Academy includes a wide-range of industry professionals who will provide experience, knowledge, advice and guidance.
 
The following events in the series will dive deeper into each element, with tutorials and masterclasses.
 
The AES Mastering Academy provides a unique opportunity to partner and participate in this highly anticipated and focused event.
Following the streamcast days, the sessions, together with partner training and solution presentations will be available on-demand to registrants for up to 2 months. Content will then move to the AES LIVE: Videos site, free for all AES Members.
Mastering Academy Program Highlights
The mastering studio business and technology infrastructure
Topics include:
Legal entities
Marketing
Scope of services and file delivery types
Project Management
Pricing
Project archival
Core issues of the discipline
Topics include:
Gear needed
'Minimum acoustics'
Mastering in headphones
Deliverables for distribution
Essential topics in processing
Session deconstructed – anatomy of a master

This session will be dedicated to walking through the process of creating a master from initial assessment, establishing realistic aesthetic goals, incorporating references and preparing for final output
Mid/Side Sum Difference – a deep dive
Loudness (or not) or Quietness – What do mixing engineers think when they hear mastering engineers talk about loudness?
How to achieve good translation to varied playback systems
How to practice – how to improve
AI/ML in mastering
The AES Mastering Academy takes place on November 17 & 18, 2021.

Please choose from one of the registration options below. Partner contact share is included with this event.

Participation instructions will be sent after registration.
Non-Member Pass
Non-Member
Access to the AES Mastering Academy, November 17 - 18, 2021

Access to On-Demand recording for two weeks
AES Member Pass
AES Member Only Rate
Access to the AES Mastering Academy, November 17 - 18, 2021

Access to On-Demand recording for two months
AES Student Member Pass
AES Student Members Only Rate
Access to the AES Mastering Academy, November 17 - 18, 2021

Access to On-Demand recording for two months
AES Immersive Audio Academy 2 Partners