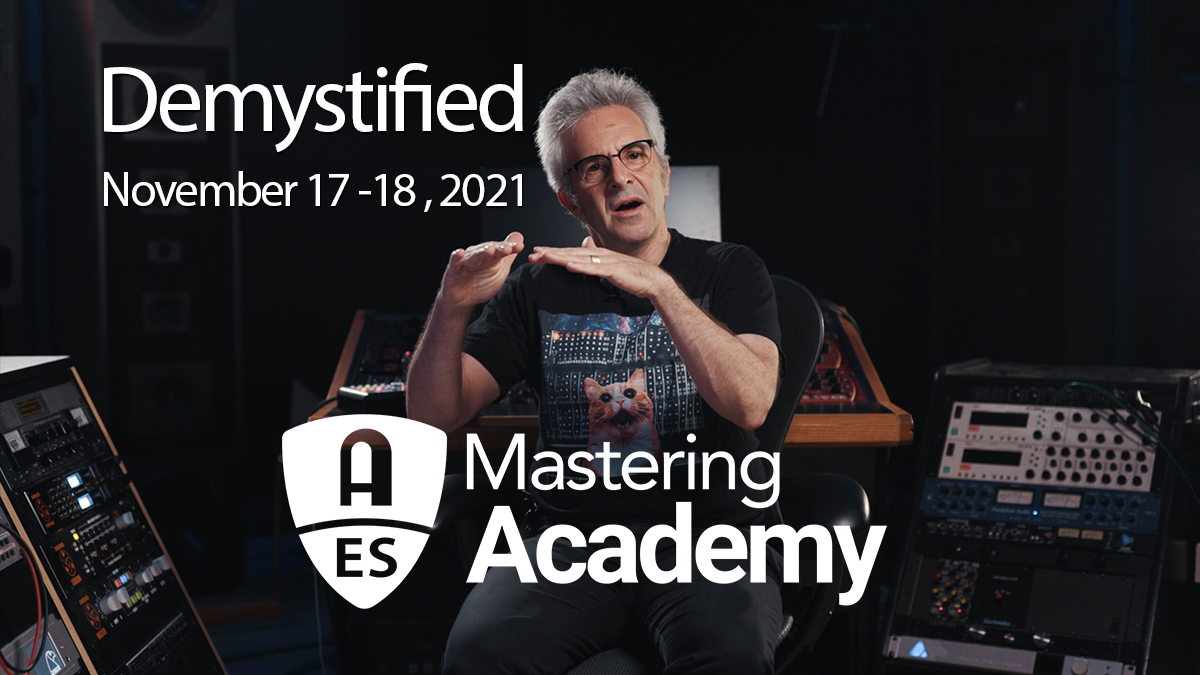 Speakers
Elaine Rasnake

Owner & Lead Mastering Engineer -Daughterboard Audio

Elaine holds a B.A. in Music with a concentration in Audio/Video Recording and Vocal Performance from Bloomsburg University of Pennsylvania and is notable for being the first woman to graduate with an audio production degree from Bloomsburg University.
After graduating, she was a touring solo musician for several years and wrote, recorded, produced, mixed, and mastered three albums and two EPs under various monikers. During this time, she began to provide audio production and post-production services to several bands and musicians in her local music scene.
In 2019, Elaine founded Daughterboard Audio, a queer-owned and operated mastering studio located in Philadelphia, PA. Here, she currently focuses on providing audio mastering and post-production services, educating musicians about the importance and art of mastering, and creating a space to help lift the voices of women and LGBTQIA+ members of the music community.

Ian Shepherd

Mastering Engineer

My name is Ian Shepherd, and I'm the founder of Production Advice. I'm a professional mastering engineer and owner of Mastering Media Ltd, and I host the The Mastering Show podcast.

Over the last twenty years I've worked on literally thousands of CDs, DVDs and Blu-rays for all of the major record labels, TV stations and independents, including several number one singles and award-winning albums.

I've also developed two plugins with MeterPlugs – Perception, which received an AudioMedia Gear Of The Year award in 2014, and Dynameter, which helps you achieve optimal audio dynamics for your music, and competitive loudness for online streaming.

Artists and clients include: Keane, Tricky, The Royal Philharmonic Orchestra, Deep Purple, The Orb, Leslie Garret, Culture Club, Porcupine Tree, Andy Weatherall, The Las, Ozric Tentacles, Christine Tobin, New Order and King Crimson amongst many others.

Ian Stewart

Mastering Engineer, Flotown Studio

Ian Stewart is a mastering engineer and audio educator from the Berkshires of Western Massachusetts where he's operated Flotown Mastering since 2011. Ian received his B.S. in Music Engineering Technology from the University of Miami in 2007 and has been a passionate advocate for audio quality, and for fostering a better understanding of the topics surrounding it, ever since.

Jonathan Wyner

Piper Payne

Mastering Engineer, Infrasonic

Piper Payne is a mastering engineer based out of Nashville, TN and Oakland, CA. In Spring of 2019 Piper joined the Infrasonic Mastering team, merging her successful studio, Neato Mastering, with the Nashville based company, owned by Pete Lyman. She began her career with a BFA in Audio from The University of Michigan, continuing her graduate education in Audio at the University of Stavanger in Norway. She has apprenticed under some of the best-known Mastering and audio mentors in the world, including Bob Katz in Orlando and Michael Romanowski in San Francisco.

In addition to mastering, Piper is a Trustee of the Recording Academy (GRAMMYs) and she serves on the P&E Wing Steering Committee and the Advisory Council. She is a Governor of the Audio Engineering Society and she is the Co-Founder and Co-Chair of the AES's Diversity & Inclusion Committee as well as an active member of Women's Audio Mission and she serves on the Board of SoundGirls.org.

Piper has a diverse background in musical styles. As a drummer, she knows that the best outcome of every project is that it has to feel good. As an engineer, Piper is focused on technical quality and correctness. But, at the end of the day, mastering is about format conversion and quality control so the project gets just what it needs.
AES Mastering Academy – Demystified

Introducing the first in the AES Mastering Academy series. A new event format focused on training and development.
 
This two day live online event provides an introduction to the discipline with explorations on current and evolving mastering practices and technologies. The Academy includes a wide-range of industry professionals who will provide experience, knowledge, advice and guidance.
 
The following events in the series will dive deeper into each element, with tutorials and masterclasses.
 
The AES Mastering Academy provides a unique opportunity to partner and participate in this highly anticipated and focused event.
Following the streamcast days, the sessions, together with partner training and solution presentations will be available on-demand to registrants for up to 2 months. Content will then move to the AES LIVE: Videos site, free for all AES Members.
Mastering Academy Program Highlights
The mastering studio business and technology infrastructure
Topics include:
Legal entities
Marketing
Scope of services and file delivery types
Project Management
Pricing
Project archival
Core issues of the discipline
Topics include:
Gear needed
'Minimum acoustics'
Mastering in headphones
Deliverables for distribution
Essential topics in processing
Session deconstructed – anatomy of a master

This session will be dedicated to walking through the process of creating a master from initial assessment, establishing realistic aesthetic goals, incorporating references and preparing for final output
Mid/Side Sum Difference – a deep dive
Loudness (or not) or Quietness – What do mixing engineers think when they hear mastering engineers talk about loudness?
How to achieve good translation to varied playback systems
How to practice – how to improve
AI/ML in mastering
The AES Mastering Academy takes place on November 17 & 18, 2021.

Please choose from one of the registration options below. Partner contact share is included with this event.

Participation instructions will be sent after registration.
Non-Member Pass
Non-Member
Access to the AES Mastering Academy, November 17 - 18, 2021

Access to On-Demand recording for two weeks
AES Member Pass
AES Member Only Rate
Access to the AES Mastering Academy, November 17 - 18, 2021

Access to On-Demand recording for two months
AES Student Member Pass
AES Student Members Only Rate
Access to the AES Mastering Academy, November 17 - 18, 2021

Access to On-Demand recording for two months
AES Immersive Audio Academy 2 Partners