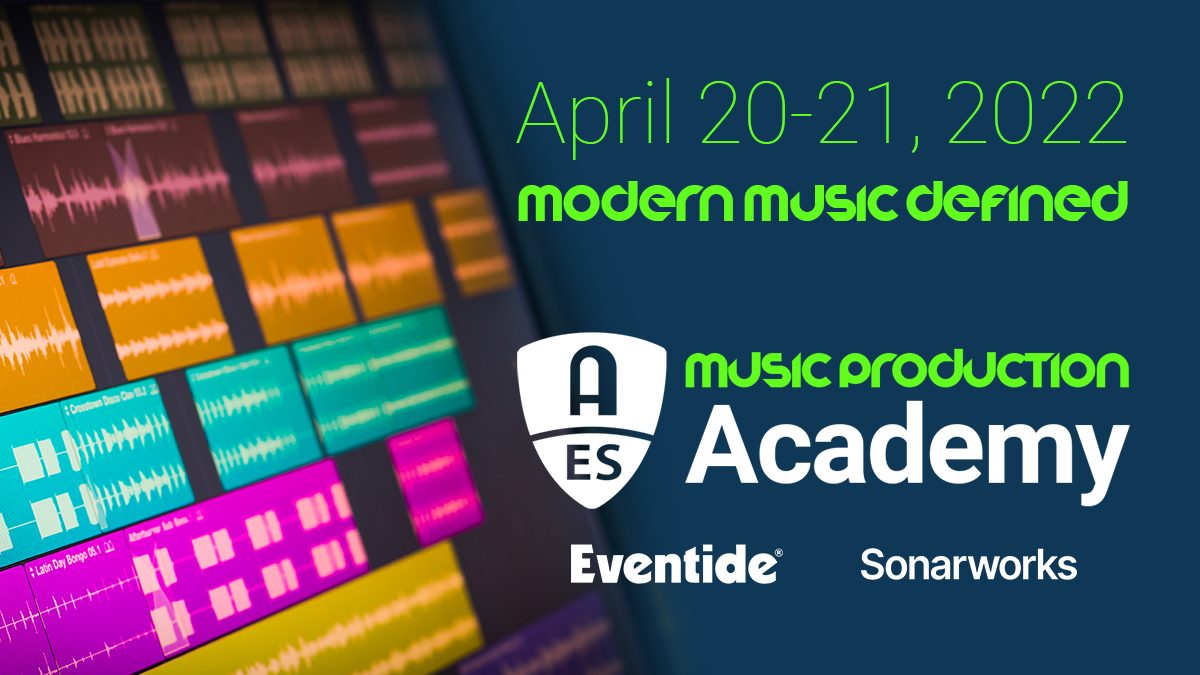 Speakers
Angela Piva

Audio/Mix Engineer & Producer / Professor

Angela Piva, music industry ace, highly skilled in all aspects of music/audio production, recording, mixing and mastering with over 30 years of professional audio engineering experience and accolades. Recognized by several Grammy award nominations from NARAS as well as RIAA multi-platinum sales and awards for many projects both past and present. Angela is currently a member of the Audio and Music Production Staff & Faculty at the Feirstein Graduate School of Cinema, Brooklyn College CUNY located at the Steiner Studios film lot in the Brooklyn Navy Yard.

Recently elected Chair of the Audio Engineering Society NY Section, a 30 year member of the Recording Academy, interviewed frequently over the years for a variety of articles, books, press and a popular guest speaker at many industry events, Angela is also noted for being one of the few successful women recording engineer/mixers in the business and is featured in the Russell Simmons documentary "The Show".

Participated as one of the guest speakers that gave testimonial on the first inquiry hearing chaired
by Tina Tchen for the Recording Academy Task Force on Diversity and Inclusion in 2018; this
resulted in the Annenberg Inclusion Initiative.

Recording and Mix Credits include: Michael Jackson, Toni Braxton, Naughty By Nature, Queen Latifah, Run DMC, Ronnie Spector, Groove Theory, Mary J Blige, Color Me Badd, Heavy D, Christopher Williams, Next, Pat Benatar, Foxy Brown, Shabba Ranks, Ghostface Killah, Zhane, Rita Wilson.

Film Music Mixing Credits include: New Jack City, Poetic Justice, Juice, Love Jones, Toy Story, The Show, Sunset Park, Space Jam, NJ Drive, Why Do Fools Fall in Love.

Spoken word performers including: Cherry Jones, Stanley Tucci, Lynn Redgrave, Lauren Bacall, Anderson Cooper and many more.

•AES, NARAS and ASCAP member
•AES NY Section Chair / Current
•AES Education Committee
•Sound Thinking Student Diversity and Inclusive Music Program/Consultant (Mayor's Office of
Media and Entertainment)
•B.M. Berklee School of Music, Music Production & Engineering
•MAT, CUNY, Master of the Arts Music

Eric "Realistic" Michael

Producer/Engineer

Realistic is a Producer/Engineer located in Atlanta, GA and specializing in Hip-Hop, R&B & Pop music.

Realistic has been involved in the music industry for over 15 years. He has worked on projects for LoveOfPharaoh, Rick Ross, Future, Wale, Tory Lanez, The Game, Conway The Machine, Talib Kweli, Just Blaze, Musiq Soulchild, Pharoahe Monch, NBA 2k, DC Films, CW, Skyzoo, BJ The Chicago Kid, Madlib, Hamburger Helper, & more!

Gloria Kaba

Gloria Kaba is a Ghanaian – American sound engineer, producer, mixer and writer with over 10 years experience in the studio, often operating under the moniker Redsoul. A Temple University alum, she began her career in NYC as an intern at Battery Studios and later as an assistant engineer at MSR Studios. At MSR Studios, Gloria spent 6 years honing her skills under the tutelage of the industry's most proven engineers, producers, and artists.

She is now a freelance engineer, finding her niche working closely with legendary hip-hop artist and producer Q-tip. Her recent credits include work on A Tribe Called Quest's final album "We Got It From Here…Thank You For Your Service" and Solange's breakthrough release, "A Seat At The Table". She has also recorded or mixed Andre 3000, Anderson .Paak, Frank Ocean, Jack White, Kanye West, and Amber Mark among others. With a return to her songwriting and production roots, Gloria hopes to continue forging a road forward with a perspective and voice all her own.

Hank Shocklee

Music producer, film composer, sound designer

Hank Shocklee is a music producer, film composer, sound designer, and all around musical disruptive innovator. He heads up NYC based production company Shocklee Entertainment and is a visiting artist at Berklee College of Music, The Clive Davis Institute of Recorded Music at NYU and The New School for Jazz & Contemporary Music. Hank Shocklee is a 2013 Rock and Roll Hall of Fame inductee and a 2018 GRAMMY Hall of Fame inductee as a founder & producer of seminal hip hop group Public Enemy and the Bomb Squad.

Heba Kadry

Mastering Engineer

Born in Egypt, Heba Kadry grew up listening to early 90's indie shoegaze records whenever she could get her hands on them. After graduating from The American University in Cairo, she got her start in audio by composing jingles at advertising agency J Walter Thompson in Cairo. After a 2 year stint in advertising, she moved to the US to study audio engineering at The Recording Workshop in Ohio.
Next, Heba moved to Houston, Texas, where she accepted a position at SugarHill Recording Studios as recording engineer and studio manager. After a few years in Texas, Heba moved to New York in 2007 to focus on mastering and worked in Manhattan for a number of years until moving to Brooklyn in 2013 where she is now located. She has worked with notable artists such as Slowdive, Beach House, Nicolás Jaar, The Mars Volta, John Maus, Lucy Dacus, Animal Collective, Hayley Williams, Yaeji, Porches, Future Islands, Battles, Mykki Blanco, Deerhunter, Neon Indian, Big Thief, Alex G, serpentwithfeet, Diamanda Galás, Lightning Bolt and Explosions in the Sky.
Since 2017, Heba has worked with acclaimed electronic artist and award winning film composer Ryuichi Sakamoto on many of his releases including the long awaited remaster of his albums "B2-Unit" and "BTTB" in addition to numerous film scores.
Heba expanded her engineering role when she was handpicked by Björk to mix her masterpiece LP "Utopia" in both Iceland and at her studio location in Brooklyn.
When Heba is not in the studio she is most likely spending way too much time obsessing about synth modulars and hanging out with her dog, Eno.

Jeanne Montalvo

Audio Engineer & Producer

Jeanne Montalvo is a Grammy-nominated audio engineer and radio producer. She was selected amongst thousands of applicants as the 2018 EQL resident at Spotify Studios and Electric Lady Studios in New York City, assisting in the recording process for artists like John Legend, Cultura Profética, Alessia Cara, Anitta and many more. She also recorded sessions with Ivy Queen, Making Movies and Ruben Blades, Flor de Toloache, and Williamsburg Salsa Orchestra. In 2017, she was nominated for a Grammy Award as Mastering Engineer for Vladimir Horowitz: The Unreleased Live Recordings, and her recording of Multiverse by Bobby Sanabria's Latin Jazz Big Band was nominated for Best Latin Jazz Album at the 2012 Grammy Awards. She's worked at the Banff Centre for the Arts, the Tanglewood Music Festival, and has also worked on live recordings with Spike Lee and Al Kooper.

Josh Bonati

Mastering & Vinyl Cutting Engineer

Josh Bonati is a mastering & vinyl cutting engineer who runs Bonati Mastering in Brooklyn, NY. He is involved in mastering records for current artists as well as restoration & remastering for reissue work. He was the last apprentice of Albert Grundy, an expert on vinyl cutting lathes and AES President from 1983-'84

Paul "Willie Green" Womack

Producer, Engineer & Part-Time Educator

A producer, engineer and sonic artist, Paul "Willie Green" Womack has built a discography boasting names such as Wiz Khalifa, The Alchemist, The Roots, Billy Woods, ELUCID and many more, and established himself as one of the top names in independent Hip-Hop & R&B. Currently residing in Brooklyn NY, Womack is a member of the AES Board of Governors, and teaches at the Purchase Conservatory of Music.
Partial Client List: Armand Hammer, The Roots, Wiz Khalifa, The Alchemist, Donnie McClurkin, Billy Woods, Fielded, ELUCID, L'Orange, Ella Mae Flossie, GQ Films, Gimlet Media

Scott Rubin

Music Publisher

Scott Rubin has been in the music business for over thirty years with an emphasis on music publishing. He joined independent music publisher Reach Music in 1999 and has been an executive there ever since. Reach Music's client list includes artists like Public Enemy, Glenn Tipton from Judas Priest, John Mayer, Zac Brown Band, Lisa Loeb and many others.

Scott is also a published author; contributing to music industry trades such as Billboard, DJ Times, Musician and American Songwriter. His hobbies include playing drums, DJing and podcasting.

Stephanie Lebow

Director of Engineering & Sound Designer at Futuro Media

Stephanie Lebow is a Peabody award winning Sound Designer & Engineer based in New York City. Her experience with music, radio and video production has given her a unique ear for vivid storytelling through sound design. As the Director of Engineering at Futuro Media & Futuro Studios, she leads the engineering department across varied styles of narrative audio. During her time at Futuro, she has worked on projects such as Latino USA, Loud: The History Of Reggaeton, Suave, Norco 80, La Brega, In The Thick, Translash, Anything for Selena, Brown Love, and The Battle of 187.

Stephen Dent

Stephen Dent is a recording mix engineer who has worked with the most iconic artists,
producers, writers throughout the 90's, 2000's, and 2010's. Education, Studio
Management, Facility Design, and Corporate AV have also been Stephens passions.
Stephens discography includes Diamond, Multi-Platinum, Gold, Grammy Winning,
Grammy Nominated Albums and Songs. Notorious BIG, Diddy, Mary J Blige, NAS,
50cent, J-Z, New Edition, Faith Evans, C&C Music Factory, SWV, Busta Rhymes, MA$E,
Carl Thomas, The Lox, Lil Kim , Nelly, Method Man, 112, Dru Hill, Blaque, N.O.R.E.,
Neptune's, AZ, Total, Kid Capri, Black Rob, G-Dep, Lil Cease, JR Mafia, Shyne, 8Ball &
MJG, Blue Cantrell, Masta Ace, Mario Winans, Diplomats, Loon, Kelly Price, Hezekiah
Walker, Nature.
AES Music Production Academy 2022

Introducing the second in the AES Music Production series. This follows on from the highly successful Modern Music Production online event in 2021.
This live online event will explores current and future production techniques with a diverse group of cutting edge industry professionals.
The event will be held 12noon – 4:30pm East Coast Time, with the schedule to be released shortly.
Hosting this event is Paul (Willie Green) Womack, together with an exciting line-up of presenters and guests.