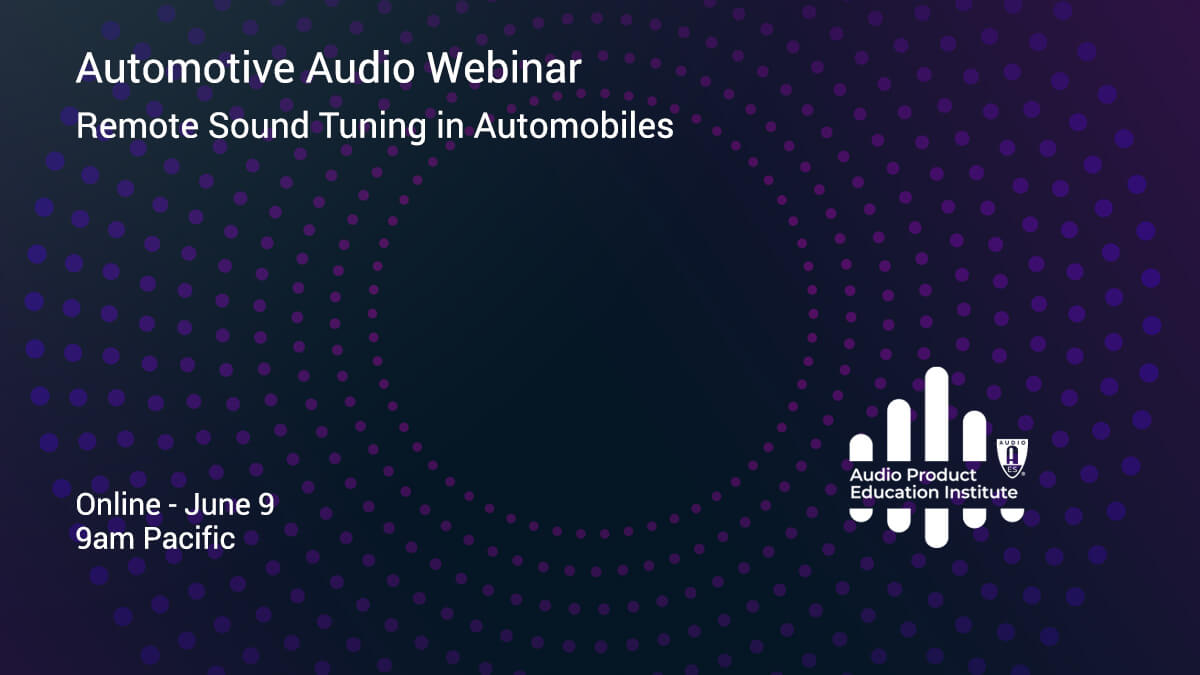 Speakers
Christof Faller

Managing Director, Illusonic, 
Uster, Switzerland

Christof Faller received an M.S. (Ing.) degree in electrical engineering from ETH Zurich, Switzerland, in 2000, and a Ph.D. degree for his work on parametric multichannel audio coding from EPFL Lausanne, Switzerland, in 2004. From 2000 to 2004 he worked in the Speech and Acoustics Research Department at Bell Labs Lucent and its spin-off Agere Systems, where he worked on audio coding for satellite radio, MP3 Surround, and the MPEG Surround international standard. He is currently managing director at Illusonic, a company he founded in 2006, focusing on products and technologies for sound capture, processing, and reproduction.

Marc Levasseur

Independent Audio Engineer, Grenoble, France

Marc Levasseur has a degree in mechanical engineering from the Ecole Nationale Supérieure d'Arts & Métiers and a master degree from the Karlsruher Institut für Technologie (KIT). He started his career in the audio industry at Harman International as a system engineer, responsible for the development of automotive JBL sound systems in Europe. He is working as an independent consultant since 2018, bringing his expertise in system design and tuning to world leading companies as well as start-ups in the fields of aeronautics, consumer electronics and automotive.
He is passionate about music and plays the piano since the age of 5.

Michael Fabry

General Manager, DSP Concepts GmbH
, Unterensingen, Baden-Württemberg, Germany

Michael Fabry is the General Manager of DSP Concepts in Germany. Michael Fabry, a car audio veteran, is best-known as the founder of automotive audio engineering firm S1nn Gmbh & Co. KG, where he played a key role in the development of the sound systems in the Tesla Model X and S, which Germany's Auto Motor und Sport called "extraordinary." He joined DSP Concepts in 2016 as general manager in Germany, where he oversaw growth of the Stuttgart engineering team and expanded the adoption of DSP Concepts' Audio Weaver voice UI and automotive audio algorithms to a broader base of automotive OEMs and Tier 1s. Prior to his work at DSP Concepts and S1nn, Michael has also held senior engineering positions at Harman Becker Automotive Systems and Bose Corporation.

Roger Shively

JJR Acoustics, LLC - Seattle, WA USA

Roger is a Co-founder and Principal of JJR Acoustics. He has over 34 years of experience in engineering research and development, with significant experience in product realization and in launching new products at OEM manufacturers around the world. Before co-founding JJR Acoustics in 2011, Roger worked as Chief Engineer of Acoustic Systems as well as functional manager for North American and Asian engineering product development teams in the Automotive Division of Harman International Industries Inc; a journey that began in 1986.
Roger received his degree in Acoustical Engineering from Purdue University in 1983, and finished post-graduate work in the field of finite element analysis. He is a member of the Audio Engineering Society, Acoustical Society of America, and Society of Automotive Engineering. He has published numerous research papers and articles in the areas of transducers, automotive audio, psychoacoustics, and computer modeling. Roger also holds US and International Patents related to the design of advanced acoustic systems and applications particularly in the field of automotive audio. Roger is Co-Chair of the AES Automotive Audio Technical Committee.

Shelley Uprichard

Tonmeister, Independent Audio Engineer,
 Copenhagen, Denmark

Shelley is a Tonmeister and tuning expert based in Copenhagen. She studied at the University of Surrey, UK, before working with B&O Automotive in Denmark and Germany. She has been running her own consultancy "Echo Friendly Audio" for the past 8 years, and she works together with companies around the world within the automotive and consumer electronics industries. She is truly passionate about great audio experiences and strives to find the best audio solutions for her clients, whether it be a luxury brand or entry-level products.
She also trains people in critical listening and audio evaluation techniques, and she recently joined the team at the Danish Sound Cluster (www.danishsound.org). Her mission there is to strengthen the Danish audio industry through knowledge-sharing, networking, research projects and events.
Remote Sound Tuning in Automobiles

Continuing to explore automotive audio design and applications, the Audio Product Education Institute (APEI) is proud to present a new webinar addressing remote sound tuning of the in-vehicle acoustics and sound systems. Among other methods, this approach combines computer modeling, measurement and tuning parameters to compute a simulation of impulse responses, frequency responses and acoustic combinations, with possible virtualization.
Tools exist for remotely measuring a car audio system, visualizing the data, auralizing it and tuning it with very close accuracy to the in-vehicle experience. Firmware can be updated remotely, and the tuning process continues as it would normally, except that it is virtual. During a time when travel was restricted and access to vehicles was limited, remote tuning became a valuable, if not essential tool. Subjective evaluations have been performed remotely, using remote tunings of physical cars and virtual models.
Is there a collective will to continue to explore its use as part of the automotive audio design process? Or is the psychological break between tuning live and tuning through headphones too great? In this session, Roger Shively (JJR Acoustics, LLC) APEI's Automotive Pillar Chair will welcome presentations and a panel discussion with four automotive industry experts, discussing their experiences with demonstrations of the methods used.
Roger Shively (JJR Acoustics) and Shelley Uprichard, Tonmeister, independent audio engineer, frequently consulting in perceptual audio and tuning, will co-host the session and present on the subjective evaluation work. Marc Levasseur, independent audio engineer and consultant, with extensive experience in automotive audio sound tuning, will describe his use of Illusonic's solutions, together with Christof Faller (Illusonic founder), who will demonstrate auralization with head-tracking and headphone compensation equalization. Finally, Michael Fabry, General Manager at DSP Concepts Germany, former founder of S1nn, and manager of audio systems for companies such as Harman/Becker and Bose, will demonstrate capturing the acoustics footprint and offline tuning. The two hour session will conclude with an opportunity for questions from attendees.