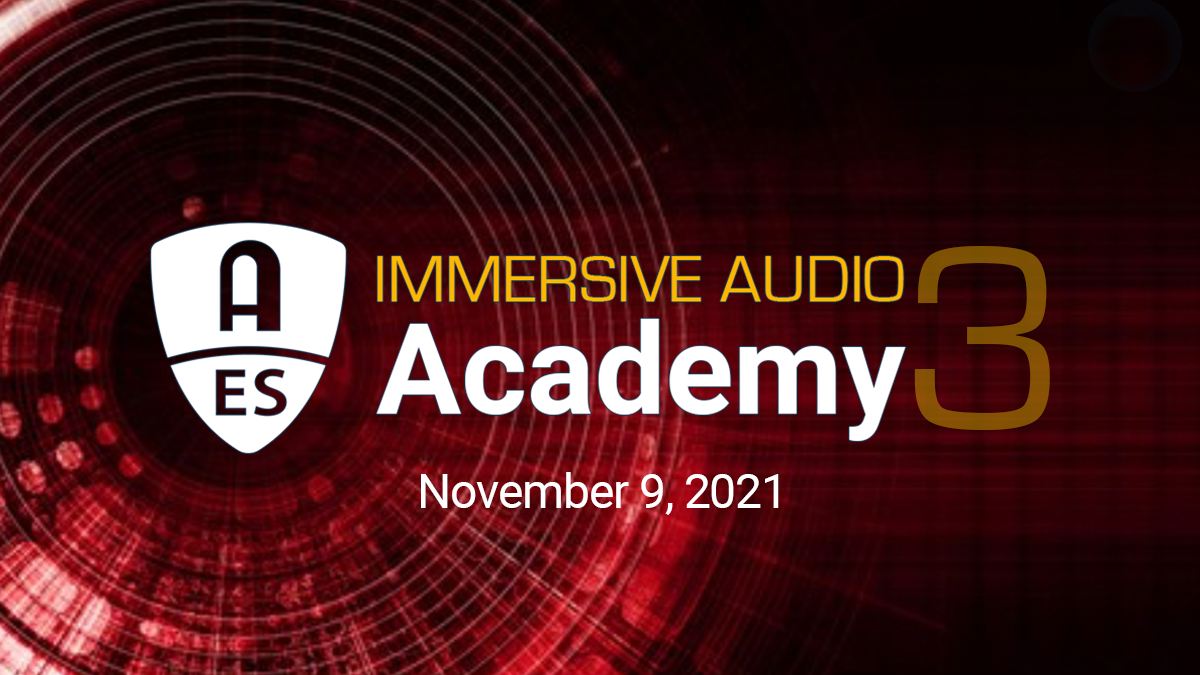 Speakers
Andres Mayo

Andres Mayo Immersive Audio

Andrés Mayo, former President of the AES (Audio Engineering Society), is an audio engineer and music producer who has pioneered the art of mastering since 1992. He boasts credits in more than 3,000 albums released in all formats, from vinyl through immersive. Andres co-chaired the first AES Conference on Audio for Virtual and Augmented Reality (AVAR), held in Los Angeles in 2016, and since then he has been working tirelessly (together with fellow engineer Martin Muscatello) in the development of techniques and workflows for immersive music production, under the name of @360MusicLab.
Specializing in binaural mixes, @360MusicLab caters for all sorts of deliverables, from 360° podcasts and product presentations to immersive music albums.
Member of the P&E Wing Advisory Council at NARAS, he also runs his own company -Andrés Mayo Mastering & Audio Post- and won two Latin GRAMMY Awards and seven Gardel Awards to the Technical Excellence.

Buddy Judge

Apple Music

Buddy judge likes music. He has been on both sides of the microphone during his lifelong career — signed as a recording artist to a major label produced by Jack Joseph Puig and was producer and music director for artists including Aimee Mann and Liz Phair. He has written, arranged and produced music for film, television and interactive software. He currently works at Apple Music in Cupertino, CA where he developed the Mastered for iTunes program.

Ceri Thomas

Content and Studio Enablement, Dolby Music/Dolby Laboratories

Following 15 years in the film and television industries, Ceri joined Dolby as part of their VR program. He is now responsible for content and studio enablement for Dolby Music and is based out of Los Angeles.

Dave Way

Audio Engineer

Dave Way is a 4x Grammy award winning engineer/producer with dozens of gold and platinum records, numerous films, No. 1 and Top 20 hits. A graduate of Berklee College of Music, musician and songwriter.

Eric Schilling

Audio Engineer

Eric started his audio career at the age of 16 in community radio doing radio production. At 19 years of age he became an assistant recording engineer at the Record Plant Studios in Sausalito Ca. Over the course his career he has worked with Sly Stone, Fleetwood Mac, Natalie Cole, David Bowie, Alicia Keys, Madonna, Gloria Estefan, Shakira, and Arturo Sandoval. Eric continues to work on record projects and has expanded his work to immersive audio mixing and broadcast music mixing for such shows as the Grammy awards. He has won 4 Grammy's and 6 prime time Emmy's.

George Massenburg

Associate Professor, Sound Recording & Audio Pioneer

George Massenburg is a recording engineer and inventor. In 1972, he authored a technical paper entitled "parametric equalization" which was presented at the 42nd convention of the Audio Engineering Society. Massenburg participated (individually and collaboratively) in over four hundred record albums over the past 45 years. His work includes recordings of Earth, Wind & Fire, James Taylor, Billy Joel, Toto, Dixie Chicks, Journey, Madeleine Peyroux, Little Feat, Weather Report, Randy Newman, Lyle Lovett, Aaron Neville, Kenny Loggins, Mary Chapin Carpenter, Linda Ronstadt, Herbie Hancock, The Seldom Scene, and many more. He has designed, built and managed several recording studios, notably ITI Studios in Hunt Valley, Maryland, Blue Seas Recording in Baltimore, and The Complex in Los Angeles. In addition, he has contributed to the acoustical and architectural design of many other studios, including Skywalker Sound and The Site in Marin County, California.

Ianina Canalis

Spatial Audio Specialist, Meyer Sound

Ianina Canalis worked as a sound engineer for live shows on tours with different bands in Argentina and Latin America. At the same time, she was a teacher and researcher at the Universidad Nacional de Lanús, Argentina. She completed a master's degree in Audio Engineering in UK and from there she began working with immersive audio technologies.
She developed ISSP (Immersive Sound System Panning) an immersive audio software for mixing live shows. She currently works for Meyer Sound where she is part of the team that develops Spacemap Go.

Josh Fehrmann

Senior Technical Support Specialist

Josh Dorn-Fehrmann is a Senior Technical Support Specialist for Meyer Sound with a background in touring, music, and sound design for theatre. At Meyer Sound, Josh serves a multipurpose role where every day is different. Some of his responsibilities include customer support, sound system calibrations, Constellation technical support, digital product support, and education and training.

Josh received his M.F.A in Sound Design from the University of California, Irvine, where his thesis was on Sound Design for the Restaurant Environment. He lives and works remotely in the Atlanta, GA area.

Michael Romanowski

Coast Mastering - Berkeley, CA, USA

Michael Romanowski is a Grammy nominated mastering engineer based in the San Francisco Bay Area. He is owner and chief mastering engineer at Coast Mastering and co-owner and founder of the analog tape label The Tape Project. Michael is currently a Trustee of the The Recording Academy San Francisco Chapter (NARAS), Former Chair of the National Presidents Council, former president of the SF Chapter and serves on the National Advisory Council to the Producers & Engineers Wing, and serves on the AES Technical committee.

Since 1994, Michael has worked to support the tradition of the diverse San Francisco sound and has become a national expert in the art and science of mastering (Mix Magazine, Electronic Musician, AES, NAMM, SXSW, Tape Op, Potluck Con, AES Mexico, AES Europe). Michael started his audio career as a musician and live sound engineer in Nashville, where he quickly progressed to recording and mixing pop, rock and alternative acts. In 1994, he relocated to the Bay Area to apprentice at Rocket Lab with Paul Stubblebine and Ken Lee, learning the art and craft of the mastering engineer. In 1999, he became the chief mastering engineer for Sausalito's Plant Studios, in 2001 he reunited with Paul Stubblebine and built two new surround mastering rooms at the former location of Coast Records. In 2007, Michael acquired the mastering business and continued to expand the facility by acquiring Coast Recorders. In 2015, Michael Romanowski Mastering and Coast Recorders merged as Coast Mastering and relocated to the infamous Fantasy Studios Complex in the former Studio C. Working with Acoustician extraordinaire Bob Hodas, The tracking room and former foley room for the Saul Zaentz Media Center, was transformed into an immersive mastering room. Michael has been on the forefront of surround music since 2001, and continues to push the possibilities of immersive audio, working with Dolby, Fraunhofer, Sony and other leading companies to help artists realize the potential of their music in an immersive format and Hi resolution sound to their music fans everywhere.

He currently teaches classes at Pyramind, as well as having taught at San Francisco State University and SAE, and is a guest lecturer at other regional colleges.

Michael's extensive credits include America, Third Eye Blind, G-Love, Pat Monahan, Devotchka, Jeffrey Gaines, Sea of Bees, Chuck Prophet, Train, Peter Case, Zigaboo Modeliste, Alasdair Fraser & Natalie Haas, Los Amigos Invisibles, Pentatonix, Craig Carothers, Laura Pausini, Matt Nathanson, San Quinn, Jacqui Naylor, Pete Ham, Will Kimbrough, Sutro, The Dynamites, Thompsonia, Megan Keely, Bobby Walker, Jinx Jones, Sun Monks, Ant Banks, SF Jazz, Norton Buffalo, Too $hort, Colorado Symphony, Chanticleer, Dredg, The Devil in California, !!!, Junior Toots, Diegos Umbrella, Daddy, Bill Martin, Brendan Smith, Richard Howell, Alexander String Quartet, Bad Finger, Keith Greeninger, Dan Wolf, Antonio Iturrioz, Pfife Dawg, Sara Lovell, Raelyn Nelson Band, Megan Slankard, Chanticleer, Media Hyperium Surround (Sting, Cheryl Crow, Marvin Gaye, Tears for Fears,Soundgarden, Pink, Evanescence, Seal, Yes, Lady Gaga, Alanis Morisette, Matchbox 20, James Blunt), Jeff Larson and Jeff Foskett, Gerry Beckley, Brother Ayouba and several thousand more…

Peter Doell

Mixing & Mastering Engineer

Peter Doell is one of the most talented and best known mastering engineers in the world. Pete has more than 35 years of experience and has mastered and engineered hundreds of chart-topping records, film scores and TV spots.
Doell has served as a first-call engineer with some of the most prestigious and acclaimed studios including Universal Mastering, Sunset Sound, Capitol Studios, and Sony Pictures. Some of Doell's credits include: Josh Groban, Frank Sinatra, Kurupt, John Waite, Glenn Frey, Celine Dion, Dave Coz, Miss Saigon, Miles Davis, Brian McKnight, Toto, Dwight Yoakam, Marilyn Manson, Los Lobos, Harry Connick Jr., The Beach Boys, Dashboard Confessional, Willie Nelson and Sheryl Crow. He has also worked on feature film scores including Road To Perdition and Black Hawk Down, and mastered the music for prominent TV productions such as American Idol and The Voice.

Robert Bleidt

Fraunhofer USA Digital Media Technologies - San Jose, CA, USA

Robert is Division General Manager at Fraunhofer USA Digital Media Technologies and the inventor of the award-winning Sonnox/Fraunhofer codec plug-in that is widely used in music mastering. He led the extension of Fraunhofer's codec business to an open-source model through inclusion in Android, and developed Fraunhofer's Symphoria automotive audio business. Before joining Fraunhofer, he was president of Streamcrest Associates, a product and business strategy consulting firm in new media technologies. Previously, he was Director of Product Management and Business Strategy for the MPEG-4 business of Philips Digital Networks and managed the development of Philips' Emmy-winning asset management system for television broadcasting.

Prior to joining Philips, Mr. Bleidt served as Director of Marketing and New Business Development for Sarnoff Real Time Corporation, a video-on-demand venture of Sarnoff Labs. Previously, he was Director of Mass Storage Technology and inventor of SRTC's Carousel algorithm. Before joining Sarnoff, Mr. Bleidt was President of Image Circuits, a consulting engineering firm and manufacturer of HDTV research equipment.
Mr. Bleidt is the developer and architect of many systems aspects of the MPEG-H TV Audio System, including SDI and HDMI connectivity, stream splicing, and live production equipment and now manages the certification program for MPEG-H.

Steve Martz

Vice President, Global Technology, THX Ltd.

Warren Huart

Music Producer

Warren Huart is a Los Angeles-based British music producer who has played a fundamental part in the creation of platinum winning and billboard-soaring albums; as well as the development of many of today's successful artists' careers.

Warren Huart is known for his hard work ethic, positive attitude and respect for the artist's vision. Many of his long term work relationships have turned into close friendships. With over 20 years of experience in the ever expanding music industry (record production, engineering, mixing and song writing), as well as his extensive knowledge of musical equipment used yesterday and today, Warren manages to create the most diverse sound around.

Wilfried Van Baelen

MD Auro Technologies, CEO Galaxy Studios

Wilfried Van Baelen, founder of Galaxy Studios and Auro Technologies, is a renowned pioneer in the production of high-end Surround Sound for both music and film. He revolutionized the audio industry with his AURO-3D format, the first ever 3D Audio format with an end-to-end solution for all audio markets. Wilfried also coined "Immersive Sound" and "Immersive Audio" as the new generic term for "Surround sound with Height" adding the missing and final dimension in sound recording and reproduction.

Wilfried is today CEO and MD of Galaxy Studios Group, Executive Chairman and MD of Auro Technologies.

Yannik Grewe

Fraunhofer IIS - Erlangen, Germany

Yannik Grewe received the B.Sc. degree in 'media technologies' and a M.Eng. degree in 'audiovisual media – sound'. He joined the Fraunhofer Institute for Integrated Circuits IIS in 2013 as a scientist and field application engineer for MPEG-H 3D Audio. He researches 3D audio production and reproduction technologies. His main expertise is 3D audio content production for Next Generation Audio.
Immersive Audio Academy 3

Welcome to the third AES Immersive Audio Academy!

This one day online event focuses on the technology and solutions Immersive and Binaural Audio provides in music recording & production.

The AES Immersive Audio Academy 3 consists of workshop & partner sessions and together with a very special training masterclass.

The Academy series are designed to provide insight, solutions, engage and answer questions to the leading professionals in the Immersive Audio field.
Follow this link to register for the AES Immersive Audio Academy.

You will receive an email from us with your Zoom participation details.
The Immersive Audio Academy 3 will be streamed via Zoom and use Audio Movers.

 Note: the immersive and binaural content will only be available during the live sessions.
Non-member registrants will have access to the recording for 2 weeks following the live event. Member registrants will have access to the recording for 2 months following the live event.
Pricing plans and options
The AES Immersive Audio Academy takes place on Tuesday, November 9.
Please choose from one of the registration options below. Partner contact share is included with this event.
Participation instructions will be sent after registration.
Non-Member Pass
Non-Member
Access to the AES Immersive Audio Academy November 2021

Access to On-Demand recording for two weeks*
AES Member Pass
AES Member Only Rate
Access to the AES Immersive Audio Academy November 2021

Access to On-Demand recording for two months*
*Immersive multichannel and binaural demonstration examples played will only be available via AudioMovers during the live event.
All session tutorial, discussion, work flow instruction and other content will be available On Demand.
Immersive Audio Academy 3 Preliminary Schedule
Welcome to the Immersive Audio Academy 3
With Academy Chairs Andres Mayo and Steve Martz
Mixing in Spatial/ Atmos with Dave Way
With Peter Doell, Warren Huart & Dave Way
Beyond Immersive Music – Mixing for Interactive Delivery
With Robert Bleidt, Eric Schilling, Yannik Grewe and Herbert Waltl
Immersive Audio for Live Performances
With Ianina Canalis & Josh Dorn-Fehrmann
Immersive sound systems offer new possibilities and challenges for artists and audio engineers. Spacemap Go is a creative tool for mixing in multichannel sound systems. The Spacemaps at the heart of the application, are very versatile and allow for unlimited creativity and flexibility. We will explore various technical and artistic possibilities of Spacemap Go with examples and live demonstrations.
Explaining 360 Reality Audio
A 360 Reality Audio workshop followed by plug-in software for content creation and demonstration followed by Q&A
MASTERCLASS – Inside the Immersive Workflow
Presented by Michael Romanowski with George Massenburg, Buddy Judge (Apple), Robert Bleidt (Fraunhofer), Wilfried Van Baelen (Auro 3D), Ceri Thomas (Dolby), plus other special guests to be announced.