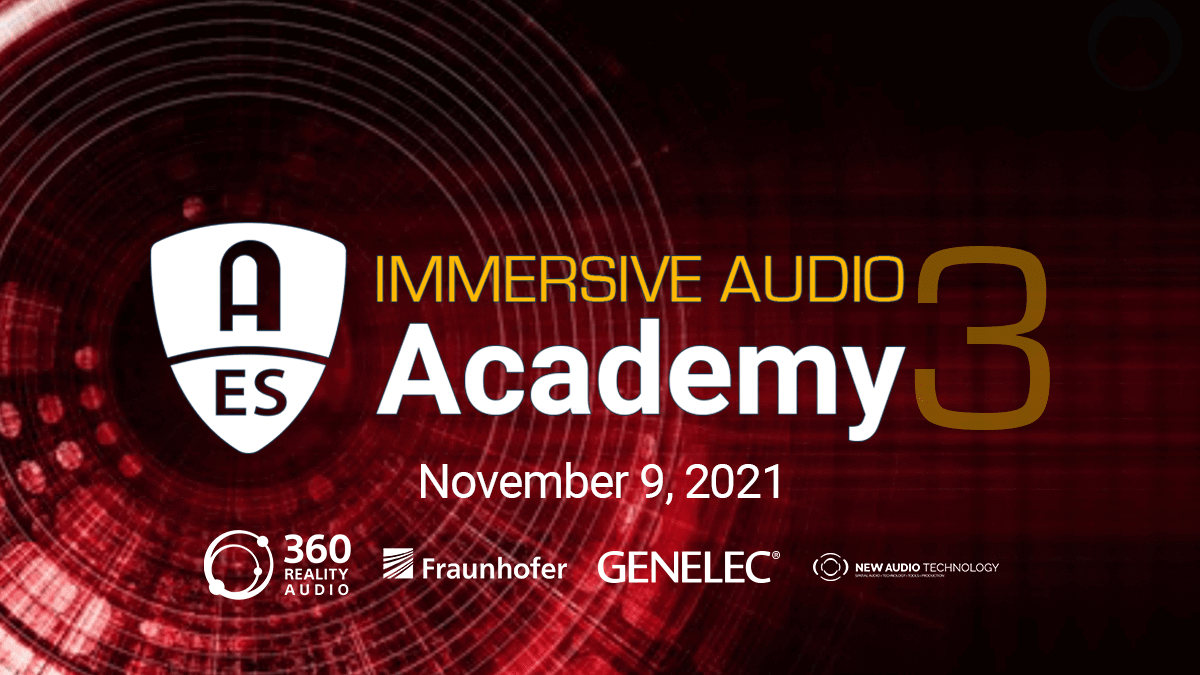 Speakers
Andres Mayo (Chair)

Andres Mayo Immersive Audio

Andrés Mayo, former President of the AES (Audio Engineering Society), is an audio engineer and music producer who has pioneered the art of mastering since 1992. He boasts credits in more than 3,000 albums released in all formats, from vinyl through BluRay. Andres co-chaired the first AES Conference on Audio for Virtual and Augmented Reality (AVAR), held in Los Angeles in 2016, and since then he has been working tirelessly (together with fellow engineer Martin Muscatello) in the development of techniques and workflows for immersive music production.
Andres Mayo Immersive Audio boasts a Dolby Atmos – Neumann room and caters for all sorts of deliverables, from 360° podcasts and commercial ads through documentaries and music productions.
Member of the P&E Wing Advisory Council at NARAS, Andres is a 2-time GRAMMY and 7-time Gardel Award winner.

Dave Way

Audio Engineer

Dave Way is a 4x Grammy award winning engineer/producer with dozens of gold and platinum records, numerous films, No. 1 and Top 20 hits. A graduate of Berklee College of Music, musician and songwriter.

David Frangioni

Audio consultant, technologist, integrator and recording engineer

David Frangioni is an award-winning veteran of the music and audio-visual technology industry, with expertise ranging from being a drummer and producer, to an audio consultant, technologist, integrator and recording engineer. Dave's music career spans decades in the rock, and pop genres of music. After years of successfully consulting and building recording studios, David founded Audio One Sound & Video Inc. in the mid-90's and grew it from a cold startup to a multi-location, large A/V company, establishing it as the premier audio-visual systems integration company in the U.S. & abroad (through affiliates). He is based in the Miami region.

Eric Schilling

Audio Engineer

Eric Schilling is a music mixer and broadcast music mixer. His awards include: 5 GRAMMY Awards, 15 Latin GRAMMY Awards, 7 Prime Time Emmy Awards, Armstrong Major Broadcast Award and more. At 19 years old, Eric became an assistant recording engineer at the Record Plant Recording Studios in Sausalito, CA working with Sly Stone, Joe Cocker and Fleetwood Mac. In 1977 he relocated to Florida to become an engineer at Bayshore Recording Studios where he worked with Jimmy Buffet, Pat Travers, The Outlaws among other legends. While working at Bayshore Recording in 1982, he met Gloria Estefan and their engineer-artist journey started, working together on all of her groundbreaking mega-hit albums and singles. His recent projects have included Immersive mixes for Alicia Keys, Coldplay, Bee Gees, Earth Wind and Fire, and the "God Of War" game soundtrack. His recent broadcast work includes the GRAMMY Awards, the Latin GRAMMYs, Adele's "One Night Only", and Elton John's "Live from Dodger Stadium". Eric is partner in mediaHYPERIUM studios, and is nominated in 2023 for his immersive mixes of "Divine Tides" by Stewart Copeland and Ricky Kej.

Greg Tobler

Emmy Award-winning audio professional

Emmy Award-winning audio professional Greg Tobler has an extensive background in music, film and TV production and mixing, as well as advertising, VR, sports, events, and installations – giving him a unique skill set and depth of knowledge. Working directly with the developers and software engineers, he is pioneering new techniques in binaural sound, high order ambisonics, 5.1, 7.1, Dolby Atmos and discrete 128 channel audio. Greg has lent his talents recently to The Pope, Paul Simon, Bruno Mars, The Avett Brothers, the US Tennis Open, NY Mets, HBO, Audi, BMW, Intel and Mission Impossible 5. He is based in Connecticut.

Herbert Waltl

Producer/ Engineer

Herbert began his musical education at the age of five and subsequently studied with the renowned pianist and composer Franz Hummel. Recognized as being one of the most promising young pianists in Germany, he initially specialized in Beethoven and made several records, numerous concerts and radio and television broadcasts in Europe and the US. Equally interested in composing he early on experimented combining acoustic and electronic instruments to create immersive spatial sound fields in life performances.

Herbert's artistic impulses have been channeled into the establishment and development of production companies. He is a two time Grammy-winning producer and has more than 35 years experience in the recording and entertainment industry; founding mediaHYPERIUM in 1996 to explore cutting-edge technology and new pro-AV production methods. Over the years he has been recognized by world leading technology companies as a visionary, creative source and authority in the media industry. As producer he received numerous awards and nominations including 2 GRAMMY Awards, 4 Grammy Nominations, TEC Award for Outstanding Creative Achievement, DVD Entertainment Award for Best Music DVD, Surround Sound Music Award, and Finalist of the Billboard DEMX Awards for "Music DVD of the Year 2005".

To come "full circle", Herbert started in spring 2009 under the umbrella of media HYPERIUM a music conservatory www.HYPERIUMconservatory.com with the intention to offer the local community a high quality educational music service.

Ianina Canalis

Spatial Audio Specialist, Meyer Sound

Ianina Canalis worked as a sound engineer for live shows on tours with different bands in Argentina and Latin America. At the same time, she was a teacher and researcher at the Universidad Nacional de Lanús, Argentina. She completed a master's degree in Audio Engineering in UK and from there she began working with immersive audio technologies.
She developed ISSP (Immersive Sound System Panning) an immersive audio software for mixing live shows. She currently works for Meyer Sound where she is part of the team that develops Spacemap Go.

Ianina Canalis es Application Architect – Spatial Audio Specialist – en Meyer Sound y es miembro del equipo que desarrolla Spacemap Go. Antes de unirse a Meyer Sound, Ianina era docente de sonido en vivo en la Universidad Nacional de Lanús y trabajaba como ingeniera de sonido con grupos musicales en tour por Argentina y Latinoamérica. Realizó un máster en ingeniería de audio en la Universidad de Leeds Beckett, UK donde comenzó en 2018 el desarrollo de ISSP – Immersive Sound System Panning- una herramienta interactiva para mezclar sonido en vivo en sistemas envolventes.

Josh Fehrmann

Senior Technical Support Specialist

Josh Dorn-Fehrmann is a Senior Technical Support Specialist for Meyer Sound with a background in touring, music, and sound design for theatre. At Meyer Sound, Josh serves a multipurpose role where every day is different. Some of his responsibilities include customer support, sound system calibrations, Constellation technical support, digital product support, and education and training.

Josh received his M.F.A in Sound Design from the University of California, Irvine, where his thesis was on Sound Design for the Restaurant Environment. He lives and works remotely in the Atlanta, GA area.

Nathaniel Reichman

GRAMMY®-nominated producer and mixer

Nathaniel Reichman is a New York-based, GRAMMY®-nominated producer and mixer, who has worked extensively in television, film, advertising, and classical music. Reichmann has found a specialty recording and mixing immersive content for classical symphonic release. In film, he has contributed to Alejandro G. Iñárritu's The Revenant, Godfrey Reggio's Naqoyqatsi, Abel Ferrara's 4:44 Last Day on Earth, and the Showtime documentary Comedy Warriors, among others. He has also worked on major contemporary classical music albums including those of composers John Luther Adams (Become Ocean), Philip Glass (Orion), and Michael Gordon (Natural History). Located in Long Island, NY, Nathaniel has been mixing immersive for 4 years.

Paul Stewart

Genelec Inc. Senior Technical Sales Manager

Paul Stewart has a deep understanding of the Genelec line of speakers and not just because he is the company's Senior Technical Sales Manager, but because he is a passionate music maker who knows first-hand the power of the products. Paul has played guitar since he was a kid and attended Berklee College of Music to focus on developing his skills as a musician. In 2006 he joined the Genelec team outside of Boston and right away realized this was more than a job to him. He grew within his role and sought to learn all he could about the award-winning loudspeakers they produced. He took an interest in the DSP line and enjoys explaining the qualities that make their systems and immersive sound technology unique – key factors in the next generation of innovations at Genelec.

Peter Doell

Mixing & Mastering Engineer

Peter Doell is one of the most talented and best known mastering engineers in the world. Pete has more than 35 years of experience and has mastered and engineered hundreds of chart-topping records, film scores and TV spots.
Doell has served as a first-call engineer with some of the most prestigious and acclaimed studios including Universal Mastering, Sunset Sound, Capitol Studios, and Sony Pictures. Some of Doell's credits include: Josh Groban, Frank Sinatra, Kurupt, John Waite, Glenn Frey, Celine Dion, Dave Coz, Miss Saigon, Miles Davis, Brian McKnight, Toto, Dwight Yoakam, Marilyn Manson, Los Lobos, Harry Connick Jr., The Beach Boys, Dashboard Confessional, Willie Nelson and Sheryl Crow. He has also worked on feature film scores including Road To Perdition and Black Hawk Down, and mastered the music for prominent TV productions such as American Idol and The Voice.

Robert Bleidt

Fraunhofer USA Digital Media Technologies - San Jose, CA, USA

Robert is Division General Manager at Fraunhofer USA Digital Media Technologies and the inventor of the award-winning Sonnox/Fraunhofer codec plug-in that is widely used in music mastering. He led the extension of Fraunhofer's codec business to an open-source model through inclusion in Android, and developed Fraunhofer's Symphoria automotive audio business. Before joining Fraunhofer, he was president of Streamcrest Associates, a product and business strategy consulting firm in new media technologies. Previously, he was Director of Product Management and Business Strategy for the MPEG-4 business of Philips Digital Networks and managed the development of Philips' Emmy-winning asset management system for television broadcasting.

Prior to joining Philips, Mr. Bleidt served as Director of Marketing and New Business Development for Sarnoff Real Time Corporation, a video-on-demand venture of Sarnoff Labs. Previously, he was Director of Mass Storage Technology and inventor of SRTC's Carousel algorithm. Before joining Sarnoff, Mr. Bleidt was President of Image Circuits, a consulting engineering firm and manufacturer of HDTV research equipment.
Mr. Bleidt is the developer and architect of many systems aspects of the MPEG-H TV Audio System, including SDI and HDMI connectivity, stream splicing, and live production equipment and now manages the certification program for MPEG-H.

Steve Martz

Vice President, Global Technology, THX Ltd.

Warren Huart

Music Producer

Warren Huart is a Los Angeles-based British music producer who has played a fundamental part in the creation of platinum winning and billboard-soaring albums; as well as the development of many of today's successful artists' careers.

Warren Huart is known for his hard work ethic, positive attitude and respect for the artist's vision. Many of his long term work relationships have turned into close friendships. With over 20 years of experience in the ever expanding music industry (record production, engineering, mixing and song writing), as well as his extensive knowledge of musical equipment used yesterday and today, Warren manages to create the most diverse sound around.

Wilfried Van Baelen

MD Auro Technologies, CEO Galaxy Studios

Wilfried Van Baelen, founder of Galaxy Studios and Auro Technologies, is a renowned pioneer in the production of high-end Surround Sound for both music and film. He revolutionized the audio industry with his AURO-3D format, the first ever 3D Audio format with an end-to-end solution for all audio markets. Wilfried also coined "Immersive Sound" and "Immersive Audio" as the new generic term for "Surround sound with Height" adding the missing and final dimension in sound recording and reproduction.

Wilfried is today CEO and MD of Galaxy Studios Group, Executive Chairman and MD of Auro Technologies.

Will Eggleston

Marketing Director, Genelec Inc.

Will Eggleston likes to refer to himself as "Chief Cook and Bottle Washer" at Genelec Inc in Natick, Massachusetts. Having spent nearly 50 years in the audio business as a recording engineer for broadcast and music, product development specialist and product manager, Will has a keen discipline in breaking difficult subjects into digestible components. Will also considers himself to be a passionate user advocate as often as possible. His last 25 years have been with Genelec.
Will carries a Private Pilots Certificate and loves to fly as often as possible to forget the land-based dither and turbulence.

Yannik Grewe

Fraunhofer IIS - Erlangen, Germany

Yannik Grewe received the B.Sc. degree in 'media technologies' and a M.Eng. degree in 'audiovisual media – sound'. He joined the Fraunhofer Institute for Integrated Circuits IIS in 2013 as a scientist and field application engineer for MPEG-H 3D Audio. He researches 3D audio production and reproduction technologies. His main expertise is 3D audio content production for Next Generation Audio.
Immersive Audio Academy 3

Welcome to the third AES Immersive Audio Academy!
This one day online event focuses on the technology and solutions Immersive and Binaural Audio provides in music recording & production.
The AES Immersive Audio Academy 3 consists of workshop & partner sessions and together with special deep-dive platform classes.
The Academy series are designed to provide insight, solutions, engage and answer questions to the leading professionals in the Immersive Audio field.
Follow this link to register for the AES Immersive Audio Academy.

You will receive an email from us with your Zoom participation details.
The Immersive Audio Academy 3 will be streamed via Zoom and use Audio Movers.

 Note: the immersive and binaural content will only be available during the live sessions.
Non-member registrants will have access to the recording for 2 weeks following the live event. Member registrants will have access to the recording for 2 months following the live event.