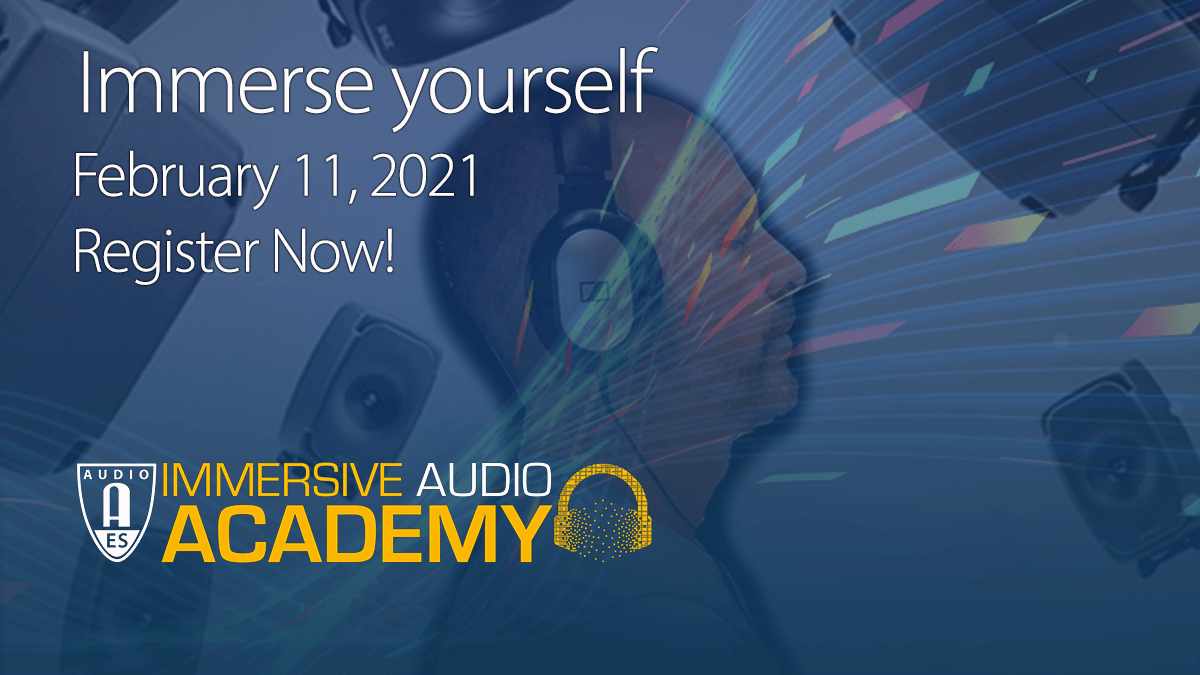 Speakers

Welcome to the first AES Immersive Audio Academy!
This one day online event focuses on the technology and solutions Immersive and Binaural Audio provides.
The AES Immersive Audio Academy will consist of 5 workshop sessions and 2 Partner sessions, followed by a 3-4 hour Masterclass. The event will be held in Pacific Time.
A certificate of achievement will be sent to all participants.
There will be a chance to win an AVID ProTools license to registered attendees – the winner will be drawn at the end of the Masterclass
Registration ends Thursday February 11 at 11:30am EST/ 9:30am PST!!
In three simple steps, you can participate in the AES Immersive Audio Academy. Register, receive the secure access code to the sessions and log-in at the scheduled times.
Follow this link to register for the AES Immersive Audio Academy
After registering, early in the week commencing February 8, 2021 you will receive an email from us with your secure access code to the AES Immersive Audio Academy. Use this to log in from the beginning, or for that specific session in the schedule.
Follow the emailed link and participate with questions and find solutions during the Academy.
Please note that non-member registrants will have access to the recording for 2 weeks following the live event. Member registrants will have access to the recording for 2 months following the live event.
Pricing plans and options
The AES Immersive Audio Academy takes place on Thursday February 11.
Please choose from one of the registration options below. Partner contact share is included with this event.
Participation instructions will be sent after registration.
Non-Member Pass
Non-Member
Access to the AES Immersive Audio Academy February 2021

Access to On-Demand recording for two weeks
AES Member Pass
AES Member Only Rate
Access to the AES Immersive Audio Academy February 2021

Access to On-Demand recording for two weeks
Hourly Schedule
Thursday February 11
9:00am PT

-

9:30 PT

Introduction & Immersive Audio Past, Present & Future

Panel discussion
9:30am PT

-

10:00 PT

GENELEC Partner Session: Creating an Immersive Audio Room

Will Eggleston and Paul Stewart from Genelec's US office will discuss some of the thinking that goes into making a purpose built or temporary immersive monitoring space. Having just created the stunning new Genelec USA Experience Center in Boston, Will and Paul will draw on this recent project as a practical example of modern immersive room design. Among the topics covered will be making the transition from stereo to 5.1 to 3D immersive layouts, cabling and signal flow, monitor selection and mounting, listening distance vs. SPL, bass management and calibration. This is a great real-world insight into the practicalities of creating a high quality immersive studio.
10:00 PT

-

11:00 PT

Immersive Audio for Live Events

The live industry is living a transition from traditional left-right, mostly dual mono, to immersive systems. In this workshop, specific challenges of immersive audio for live are presented and addressed. These challenges are mostly related to the scale and diversity of audiences and performance spaces, from pre-production, to touring, to post-production. They can be overcome adopting a full system approach as proposed by the L-ISA technology within L-Acoustics ecosystem. This approach combines specific tools and guidelines for the design of the loudspeaker system, object oriented mixing tools and specific 3D audio algorithms for loudspeakers and headphones. Presenters: Scott Sugden: Product and Technology Outreach Manager, L-Acoustics, Westlake Village, CA Etienne Corteel: Director of Education & Scientific Outreach, L-Acoustics, Marcoussis, France

Speakers:

Etienne Corteel, Scott Sugden
11:00 PT

-

12:00 PT

Audio Futures: Technologies for Games

Where does research aiming to create virtual sounds that are indistinguishable from reality intersect with today's cutting edge game audio technologies? Scott will discuss both some of the novel experiences Facebook Reality Labs Research is building today and their implications for current games, both screen- and head-mounted-display-based. We'll also cover both nascent and evolving creative and technical best practices for audio storytelling in the immersive worlds of virtual, mixed, and augmented reality. Presenter(s): Scott Selfon, Audio Experiences Lead, Facebook Reality Labs Research

Speakers:

Scott Selfon
12:00 PT

-

13:00 PT

From Stereo to Immersive; A Conceptual Discussion

A conversation about the perspective and process of creating a new immersive release from a stereo album with the artist and immersive engineer. Featuring Fantastic Negrito and Michael Romanowski. We will be discussing how the Dolby Atmos version of the album "Have You Lost Your Mind Yet?" came to be, the thought process behind the re-envisioning and the inspiration for future projects. Presenter(s): Michael Romanowski Nahuel Bronzini Xavier Dphrepaulezz

Speakers:

Nahuel Bronzini, Xavier Dphrepaulezz
13:00 PT

-

16:30 PT

(3 hr + Q&A & Prize Draw)LIVE MASTERCLASS: Producing High Quality Immersive Audio

Via link on Zoom and using AudioMovers. Producing immersive content is, nowadays, more accessible than it ever was, thanks to new tools, which are available for free or at very low costs. But achieving great results, compatible with high quality standards, is still not an easy task. In this hands-on workshop we unveil the secrets of 360 audio production during 3 intensive hours. Attendees will learn to capture and mix 3D audio using object-oriented solutions and will be able to create immersive content suitable for a variety of applications, such as live concerts, studio recordings, advertising, gaming, VR, AR, e-sports, etc. With: Martin Muscatello (@360MusicLab) Brian Glasscock (Sennheiser) Achim Fell (Dear Reality) Host: Andres Mayo (@360MusicLab) Andres will announce the Prize Draw for an AVID ProTools License!
16:30 PT

-

17:00 PT

Dolby Partner Solution: Atmos Music Creation with Studio 1 LA

At the leading edge of immersive audio, Karma Auger and Erich Gobel welcome guests into their state of the art mixing studio to share their creation theory and techniques for mixing in Dolby Atmos. Guests will learn about Studio 1 LA's Atmos education series, their work in anime sound design, and their tips for getting started in Dolby Atmos. Speakers: Karma Auger & Erich Gobel – Studio 1 LA Host: Ben Givarz – Dolby Laboratories
17:00 PT

-

18:00 PT

Traditional 5.1 as a delivery vehicle for immersive audio in cinema

For nearly 30 years the predominant surround audio format for cinema, home video, streaming, marketing, and music has been 5.1. Workflows for content creation, delivery, streaming, and playback are common, robust, and well understood. Neural:X from DTS allows for a variety of immersive playback scenarios using a standard, codec-agnostic, 5.1 deliverable which provides a simple, economical solution to broadening the footprint for immersive audio. Using a similar concept to stereo-surround 4-2-4 workflows, we demonstrate a system whereby an immersive audio mix can be acoustically encoded into a 5.1, then decoded back to an immersive environment. This method allows for a single delivery of a 5.1 which has been created and monitored for use in any sound field, including mono, stereo, 5.1, 7.1, immersive, as well as speaker and headphone virtualization. Presenter(s): John Kellogg, Vice President – Advanced Cinema, Production Services and Pro Audio Solutions, Xperi / DTS Brian Slack, Sr. Manager, Professional Audio, Xperi / DTS

Speakers:

Brian Slack, John Kellogg
On Demand

Partner Session from Genelec: The Essentials of Immersive Audio

Eric Horstmann from Genelec's European team is an immersive audio expert with many years of experience of both the technical and workflow aspects of immersive. This session will cover the basic principles of immersive audio, the formats used, the creative process, how to set up a room, and the Genelec solutions that can help immersive audio professionals working with both in-room monitoring and headphones. If you're looking for an accessible introduction to working with immersive, there's no better place to start. Presenter(s): Eric Horstmann

Speakers:

Eric Horstmann
On Demand

Partner Session from Sound Particles

3D Audio and Immersive tools with Sound Particles. Presenter(s): Nuno Fonseca

Speakers:

Nuno Fonseca
On Demand

Partner Session from New Audio Technology: Immersive and interactive audio for live applications like full domes, theatres, concerts and broadcast.

The venues in such applications becomes more and more complex what demands flexibly solutions to management versatile audio sources and formats. Another major issue is, how to create content for such applications in common audio production workflows? The presentation will offer a deeper insight in such applications and offer inspirations and strategies to deal quickly and individual with the related challenges. Presenter(s): Tom Ammermann

Speakers:

Tom Ammermann
On Demand

Partner Session from Fraunhofer: MPEG-H Authoring Suite for post-production workflows

With MPEG-H content, producers can enable features that create an entirely new audio experience for consumers. This session explains how you, as a producer, can do that. MPEG-H Authoring Suite (MAS) is a set of applications that facilitates the easy, fast and intuitive production of MPEG-H Audio content. In this webinar bit, Yannik Grewe demonstrates the MAS tools for production, monitoring and quality control as well as their interoperability.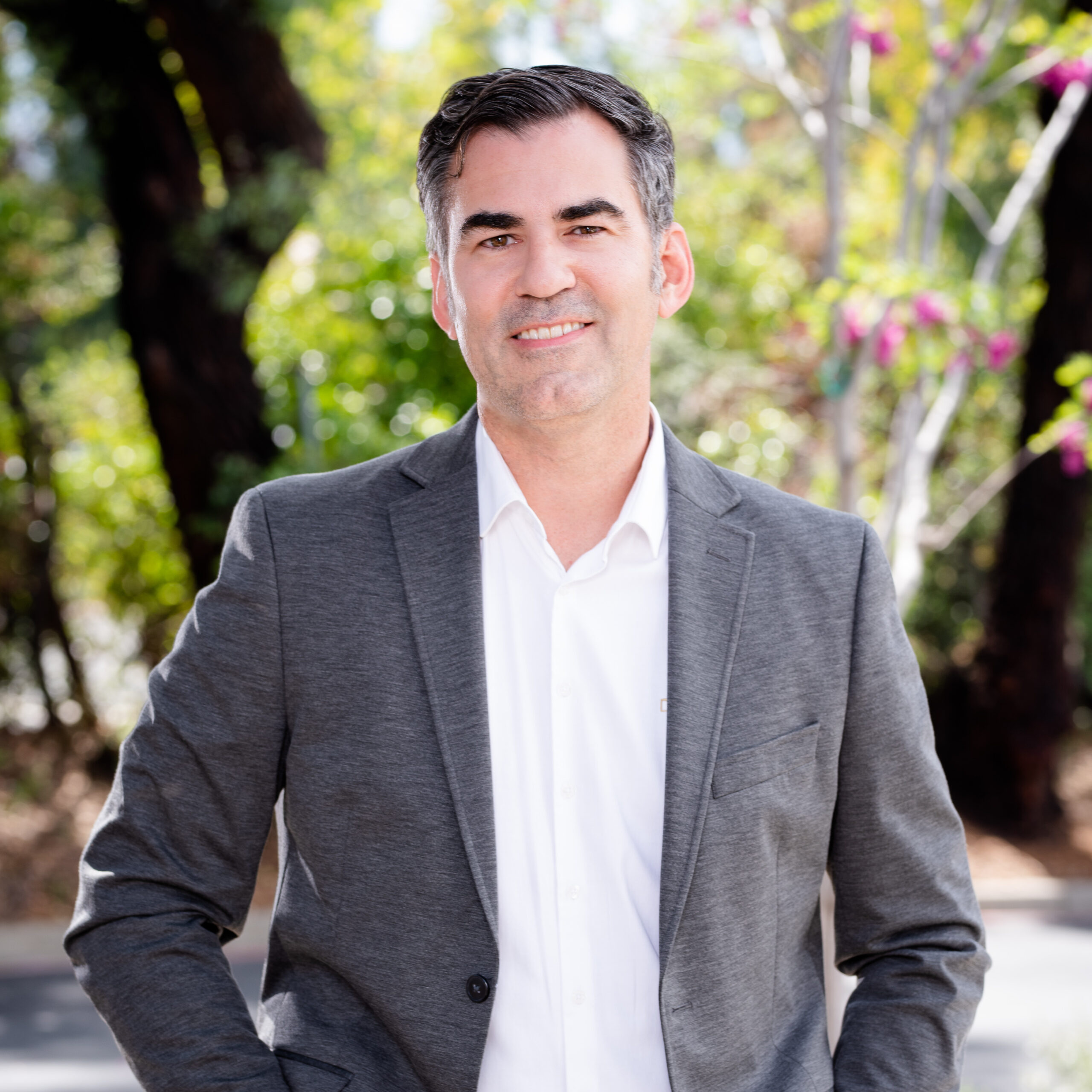 Scott Sugden
Director of Product Management, Electronics & Software, L-Acoustics
Fourteen-year L-Acoustics veteran Scott Sugden, Director of Product Management for Electronics & Software, is a key driver of the success and growth of L-Acoustics products and technologies; and is responsible for bringing innovative and ground-breaking L-Acoustics products to fruition. A Wisconsin native, Scott studied Physics at the University of Wisconsin Eau Claire, then toured with pop, rock, and theater shows worldwide, working on system and site designs for several well-known festivals. Working closely with creators, FOH Engineers, sound designers, and the L-Acoustics Certified Provider Network during his tenure at L-Acoustics, Scott has supported the success of a diverse range of projects such as Coachella, the Hollywood Bowl, The Book of Mormon, the Houston Livestock Show and Rodeo, and more. His synergism has been a critical agent in facilitating the first L-ISA US performances for Bon Iver, ALT-J, Lorde, and others, helping to bring the power of L-ISA Hyperreal Sound too excited and immersive-hungry fans all over the continent. A knowledgeable and engaging presenter, you've probably seen Scott on various L-Acoustics video tutorials and leading demos and presentations for AES, InfoComm, ISE and conferences around the globe.