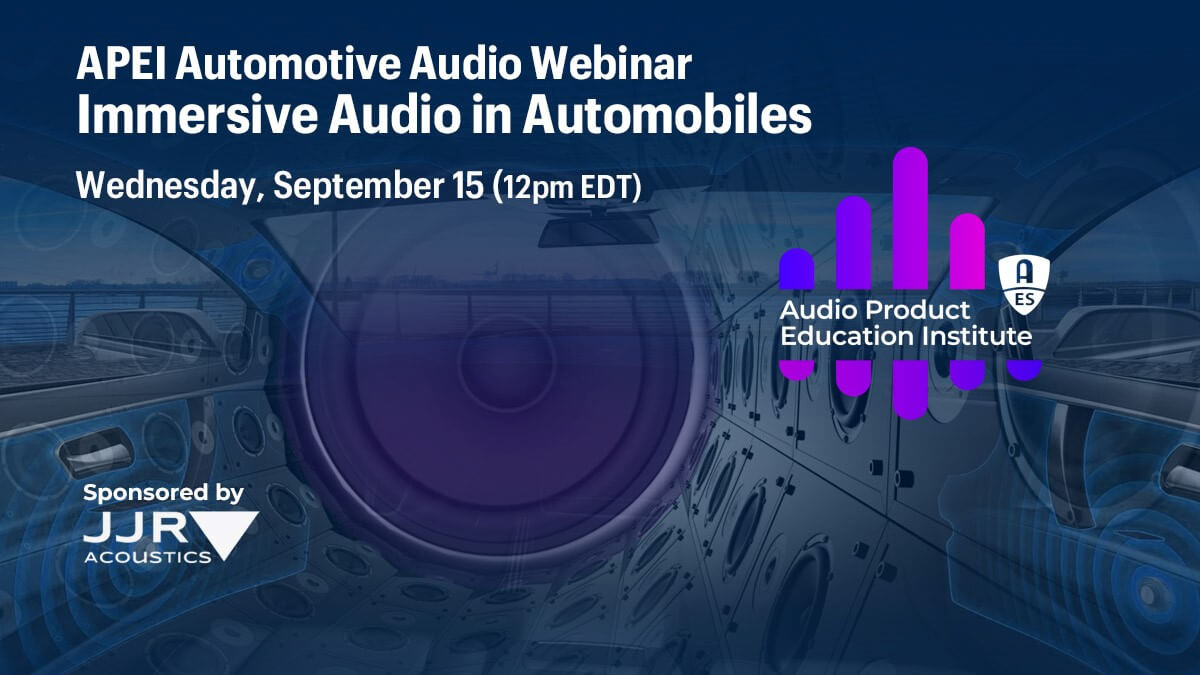 Speakers
Andreas Ehret

Dolby, Director Automotive

Andreas Ehret has been active as a technology leader in the audio industry for over two decades. He joined Dolby back in 2007 and since then served the company in various engineering and technology VP leadership roles, managing the teams that created solutions
scaling into billions of consumer devices.
Over the past couple of years his focus had been on the
market introduction of Dolby's next generation audio codec AC-4, as well as contributions to bring the Atmos music experience to life. These days Andreas' focus is on developing and expanding Dolby's Automotive business – whereas lighting up Dolby Atmos in cars is a key strategic ingredient thereof.

Andreas is a strong believer in concepts such as use-case driven exploration, lean principles, rapid prototyping, collaboration with the industry, maintaining artistic intent, and validating consumer value.

Mathias Johansson

Co-Founder and Chief Product Officer, Dirac Research AB

In 2001, Mathias founded Dirac together with two professors and three PhD students. Mathias has served as the CEO of Dirac for 11 years, but recently decided to move into the CPO role, where he now focuses on Dirac's product strategies. During his leadership, Dirac grew to become a pioneer and leader in digital sound technology within automotive, home audio, headphones and mobile audio. Hundreds of millions of audio devices are now equipped with Dirac sound optimization. As a pioneer in the field, Mathias has rich experience in everything related to digital sound, in particular sound field control and immersive audio. He holds a PhD in signal processing from Uppsala University.

Roger Shively

JJR Acoustics, LLC - Seattle, WA USA

Roger is a Co-founder and Principal of JJR Acoustics. He has over 34 years of experience in engineering research and development, with significant experience in product realization and in launching new products at OEM manufacturers around the world. Before co-founding JJR Acoustics in 2011, Roger worked as Chief Engineer of Acoustic Systems as well as functional manager for North American and Asian engineering product development teams in the Automotive Division of Harman International Industries Inc; a journey that began in 1986.
Roger received his degree in Acoustical Engineering from Purdue University in 1983, and finished post-graduate work in the field of finite element analysis. He is a member of the Audio Engineering Society, Acoustical Society of America, and Society of Automotive Engineering. He has published numerous research papers and articles in the areas of transducers, automotive audio, psychoacoustics, and computer modeling. Roger also holds US and International Patents related to the design of advanced acoustic systems and applications particularly in the field of automotive audio. Roger is Co-Chair of the AES Automotive Audio Technical Committee.
Immersive Audio in Automobiles

Expanding on a series of webinars to explore automotive audio design and applications, the Audio Product Education Institute (APEI) presents a session focused on Immersive Audio, exploring the different ways to translate actual immersive audio content and generate immersive experiences. Currently on the minds for both automotive brands and consumers, immersive audio reproduction results from a convergence of multiple technologies and concepts, from multichannel playback to acoustic auralization of perceived listening spaces, to DSP enhancement of sound reproduction.

Most consumers are familiar with the term "Immersive Audio" to describe what we might know as a height or channel-based, object-oriented process, which first appeared eleven years ago, and which was given some criteria standards by the Society of Motion Picture and TV Engineers (SMPTE) just a few years ago. With consumers now being offered immersive, 3D audio, and spatial audio experiences in all types of playback platforms, and with actual immersive audio formats, such as Dolby Atmos, becoming widely recognized, it's only natural that automotive audio followed the trend, and naturally strives to take it a step further…

During this webinar, Roger Shively (JJR Acoustics) will discuss what we mean when we say "Immersive Audio," how this is driving automotive audio speaker architectures, and how existing architectures are being used. The challenges of tuning and distributing sound for the intended experience, the role of cross-talk cancellation, content-based up-mixing vs context-based up-mixing, and how to tune the car for immersive sound formats, will also be explored. What approaches are relevant for entry, mid and highest tier systems?

To detail these topics and discuss the available technologies and solutions, Roger Shively, invited two key industry vendors, leading the space from different perspectives.

Mathias Johansson, the Co-Founder and Chief Product Officer of Dirac Research, will discuss the nature of immersive content and the desired immersive experience and how to tune a car accordingly. Mathias will also cover other uses of immersive audio such as unconventional speaker layouts or Advanced Driver-Assistance Systems (ADAS).

Andreas Ehret, Director, Automotive at Dolby, will discuss how Dolby Atmos extracts the spatial objects from music and reproduces them to reveal details that provide great spatial clarity and depth, and how that is applied to automotive audio.