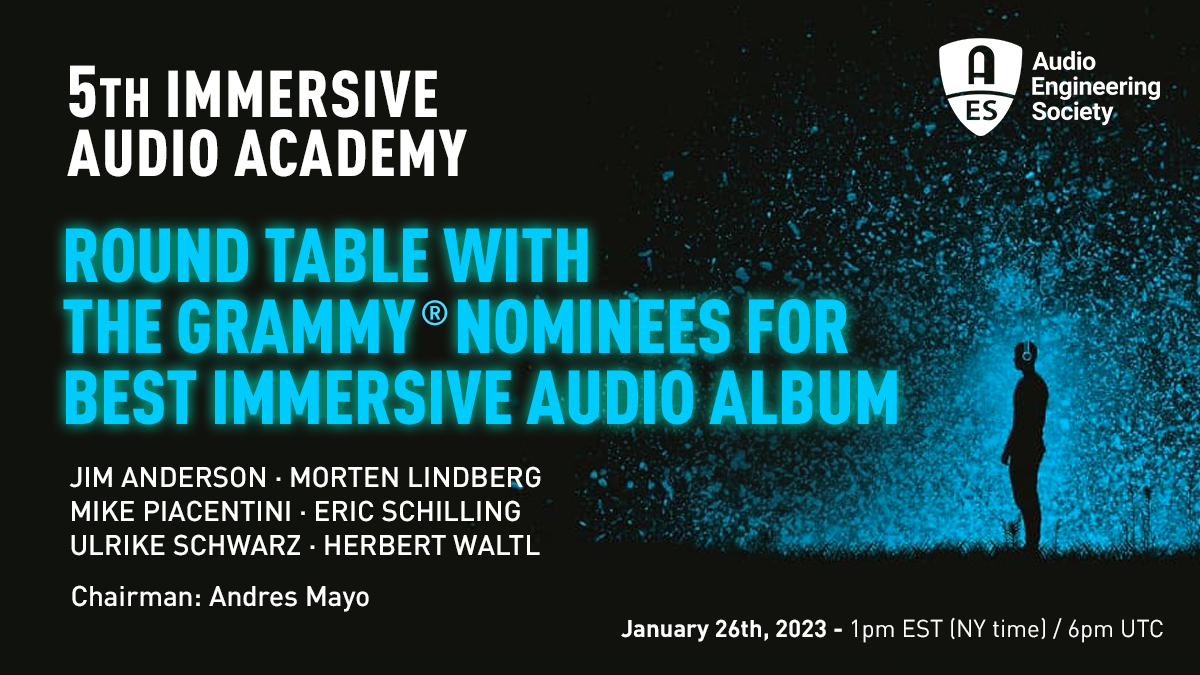 Speakers
Andres Mayo (Chair)

Andres Mayo Immersive Audio

Andrés Mayo, former President of the AES (Audio Engineering Society), is an audio engineer and music producer who has pioneered the art of mastering since 1992. He boasts credits in more than 3,000 albums released in all formats, from vinyl through BluRay. Andres co-chaired the first AES Conference on Audio for Virtual and Augmented Reality (AVAR), held in Los Angeles in 2016, and since then he has been working tirelessly (together with fellow engineer Martin Muscatello) in the development of techniques and workflows for immersive music production.
Andres Mayo Immersive Audio boasts a Dolby Atmos – Neumann room and caters for all sorts of deliverables, from 360° podcasts and commercial ads through documentaries and music productions.
Member of the P&E Wing Advisory Council at NARAS, Andres is a 2-time GRAMMY and 7-time Gardel Award winner.

Eric Schilling

Audio Engineer

Eric Schilling is a music mixer and broadcast music mixer. His awards include: 5 GRAMMY Awards, 15 Latin GRAMMY Awards, 7 Prime Time Emmy Awards, Armstrong Major Broadcast Award and more. At 19 years old, Eric became an assistant recording engineer at the Record Plant Recording Studios in Sausalito, CA working with Sly Stone, Joe Cocker and Fleetwood Mac. In 1977 he relocated to Florida to become an engineer at Bayshore Recording Studios where he worked with Jimmy Buffet, Pat Travers, The Outlaws among other legends. While working at Bayshore Recording in 1982, he met Gloria Estefan and their engineer-artist journey started, working together on all of her groundbreaking mega-hit albums and singles. His recent projects have included Immersive mixes for Alicia Keys, Coldplay, Bee Gees, Earth Wind and Fire, and the "God Of War" game soundtrack. His recent broadcast work includes the GRAMMY Awards, the Latin GRAMMYs, Adele's "One Night Only", and Elton John's "Live from Dodger Stadium". Eric is partner in mediaHYPERIUM studios, and is nominated in 2023 for his immersive mixes of "Divine Tides" by Stewart Copeland and Ricky Kej.

Herbert Waltl

Producer/ Engineer

Herbert began his musical education at the age of five and subsequently studied with the renowned pianist and composer Franz Hummel. Recognized as being one of the most promising young pianists in Germany, he initially specialized in Beethoven and made several records, numerous concerts and radio and television broadcasts in Europe and the US. Equally interested in composing he early on experimented combining acoustic and electronic instruments to create immersive spatial sound fields in life performances.

Herbert's artistic impulses have been channeled into the establishment and development of production companies. He is a two time Grammy-winning producer and has more than 35 years experience in the recording and entertainment industry; founding mediaHYPERIUM in 1996 to explore cutting-edge technology and new pro-AV production methods. Over the years he has been recognized by world leading technology companies as a visionary, creative source and authority in the media industry. As producer he received numerous awards and nominations including 2 GRAMMY Awards, 4 Grammy Nominations, TEC Award for Outstanding Creative Achievement, DVD Entertainment Award for Best Music DVD, Surround Sound Music Award, and Finalist of the Billboard DEMX Awards for "Music DVD of the Year 2005".

To come "full circle", Herbert started in spring 2009 under the umbrella of media HYPERIUM a music conservatory www.HYPERIUMconservatory.com with the intention to offer the local community a high quality educational music service.

Jim Anderson

Professor & Producer/ Engineer

For nearly 50 years, Jim Anderson has set the standard for acoustic audio engineering and production, capturing pristine, high-definition stereo and surround sound recordings that have garnered thirteen Grammy and Latin Grammy Awards, two Peabodys, and a pair of Emmy nominations among countless other accolades. In 2003, he became a professor at the prestigious Clive Davis Institute of Recorded Music in the Tisch School of the Arts at NYU and is now the department's Professor Emeritus. In 2008, he was elected President of the Audio Engineering Society.

Mike Piacentini

Mastering Engineer

Mike started his mastering career working for various studios in the New York metro area, honing his craft of mastering records. In 2014, he joined the staff of Battery Studios, Sony Music's premier in house mastering facility, located in Midtown Manhattan. Mike has mastered records for a wide variety of frontline and reissue projects with artists including Bob Dylan, Coheed and Cambria, New Found Glory, and many others. Most recently Mike has mastered projects such as the Grammy award winning soundtrack Miles Ahead – A Miles Davis biopic. Mike is well versed in the current needs of recording artists and producers, and can service any mastering needs in preparing a release for digital distribution, MFiT (Mastered for iTunes), vinyl, and other formats.

Morten Lindberg

Producer/ Engineer

Morten Lindberg is a Recording Producer and Balance Engineer with 42 American GRAMMY-nominations since 2006, 34 of these in craft categories Best Engineered Album, Best Surround Sound Album, Best Immersive Audio Album and Producer of the Year, and was a GRAMMY Award-winner in 2020.. He is the founder and CEO of the record label 2L.

Ulrike Schwarz

A broadly acclaimed engineer and producer, Ulrike Schwarz is a trailblazing audio innovator with more than two decades of experience across the film, television, radio, and recording industries. In 2015, Schwarz moved to New York full time to team up with her now-husband and production partner Jim Anderson, with whom she's created a groundbreaking body of work in the field of immersive audio. Schwarz has garnered multiple Grammy nominations for her work with artists as diverse as American jazz stalwart Patricia Barber, contemporary Norwegian composer Gisle Kverndokk, and soprano saxophonist Jane Ira Bloom. In 2022, Schwarz was named Vice President of the Verband Deutscher Tonmeister (The Association of German Sound Professionals) and received a prestigious grant from the Women's Fund of the New York Foundation of the Arts for her work on Jane Ira Bloom's Grammy nominated album (2023) Picturing The Invisible – Focus 1.
Ulrike received her Tonmeister degree from University of The Arts Berlin, and her MBA from Technical University Munich. Employed by Bayerischer Rundfunk as a senior sound engineer, from 2001-2015, she is now co-owner of the production company Anderson Audio New York. Recent recordings include the Stavanger Symphony Orchestra, Gonzalo Rubalcaba in Havana, Jane Ira Bloom, Patricia Barber and the orchestral soundtrack of the Oscar winning movie "Judas and the Black Messiah."

Active in the AES since 1999, as Governor, Ulrike was made a Fellow in 2015.
5th AES Immersive Audio Academy: Round Table With The GRAMMY© Nominees for Best Immersive Audio Album

This event was live-streamed only.
Playback of the recorded event is now available
Join us at 1pm EST, January 26, 2023, for the very special 5th AES Immersive Audio Academy. To begin the Audio Engineering Societies 75th Anniversary celebrations, Andres Mayo hosts a virtual round table with GRAMMY® Award Nominees 2023 in the category of Best Immersive Audio.  Highly renowned experts Jim Anderson, Morten Lindberg, Mike Piacentini, Eric Schilling, Ulrike Schwarz and Herbert Waltl will present their work and open up a discussion with the audience about technical and artistic aspects of their immersive mixes.