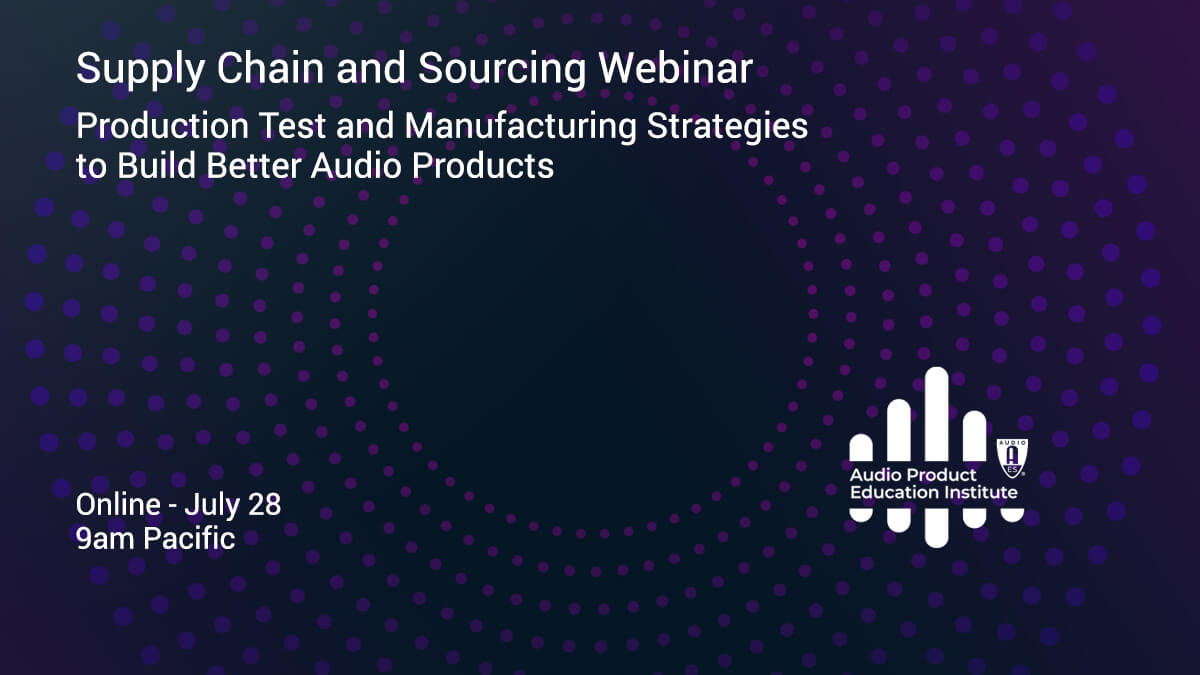 Speakers
Mike Klasco

CEO, Menlo Scientific, Richmond, California, USA

Mike Klasco is the president of Menlo Scientific, a consulting firm for the loudspeaker industry, located in Richmond, CA. He is a graduate from New York University, with post graduate work in signal processing, and he holds multiple patents licensed or assigned. For the past 35 years, Mike has worked on countless R&D projects for large and small companies. Mike specializes in materials and fabrication techniques to enhance audio performance.
Production Test and Manufacturing Strategies to Build Better Audio Products

Expanding the series of Audio Product Education Institute webinars focusing on Supply Chain & Sourcing, this new event jumps directly to the factory floor and focuses on the very specific production line challenges. In this new online event, our two supply chain and sourcing experts, David Lindberg (DB Enterprises) and Mike Klasco (Menlo Scientific) have invited two companies who play a key role in that space. Anna-Katrina Shedletsky, the co-founder of Instrumental will explain how her company helps dealing with complex production line challenges when building products. And Daniel Knighten, General Manager, and Eric Hodges, Director of Marketing and Sales Operations for Audio Precision, will explain how a new integrated audio test system helps with quality assessments, reducing setup and reconfiguration time.
The Audio Product Education Institute's Supply Chain & Sourcing pillar is committed to provide a full understanding of the full product cycle, from vision to market. And detecting and solving problems and inefficiencies in the factory floor is key to consistently successful product strategies. Launching new products is being challenged by compressed timelines, and dramatically increasing engineering complexity. 20% of every dollar spent in manufacturing alone is wasted on things like scrap, rework, product returns, mistakes, experiments, and underutilized human resources. This webinar will offer two valuable perspectives from executives with extensive experience in this field, while exploring cutting-edge products and solutions for the production line.
In the first presentation from Anna-Katrina Shedletsky, we will learn how Instrumental uses artificial intelligence (AI) to discover, root cause, and eliminate defects in development and production. Large audio manufacturers such as Bose, and many consumer electronics companies trust in Instrumental to accelerate product development timelines and improve production yields of their audio products by using AI to aggregate and analyze all of their product data to discover, root cause, and resolve even complex issues. The presentation will highlight examples of audio devices, and how Instrumental's software helps root cause issues with key components such as speakers, microphones and antennas.
The second presentation will detail how the latest Audio Precision APx517B acoustic audio analyzer, developed specifically with the manufacturing environment in mind, can be conveniently and efficiently adapted for different test strategies. Integrating a power amplifier, microphone power supply, and analyzer required for the testing of speakers, microphones, headphones, headsets, and the wide range of consumer electronics incorporating speakers and microphones, the APx517B can save time in the overall test process through reduced setup and configuration steps.
The presentation will also explore manufacturing test strategies for audio products, managing variables for both "cost of test" and "cost of failure." The goal of a manufacturing test is to ensure that the products manufactured, and ultimately shipped to retail or directly to customers, meet the design specifications and perform as intended. Unfortunately, uncontrolled variability or tolerances in materials and manufacturing processes can directly, and negatively, impact the ability to achieve this goal. So, the fundamental question is: What is the most effective way to test products to ensure they meet specification?
After the presentations, attendees will have a valuable opportunity to ask questions to the pillar chairs and the presenters. Topics such as the pandemic challenges on the production chain and broken supply chains, finding and selecting manufacturing partners in different regions of the globe, the manufacturing reliance on China, and foreseeable challenges and misalignments in electronics manufacturing.
Instrumental
Instrumental was started by two ex-Apple mechanical engineers who spent years on the factory floor. The company provides cutting-edge technology that enables engineers to not just stop problems at the end of the line, but to fix them up stream. Instrumental is used by the world's most admired brands in consumer and industrial electronics, appliances, and apparel.
Instrumental is a Manufacturing Optimization System, designed for rapid adoption by engineering and operations teams to provide tangible improvements to yield, uptime, throughput, efficiency, time to market, and end user delight. The company's technology digitizes and aggregates product data, processing it with smart algorithms, helping engineers and operations teams to optimize their product and process. Instrumental enables brands to collect data across their supply chain, and proactively identify issues throughout the line.
Instrumental delivers AI-powered proactive defect discovery, end-to-end failure analysis tools, and remote real-time build monitoring, all in a single simple cloud platform.
https://instrumental.com
Audio Precision
Audio Precision is a leading supplier of audio test solutions. For over thirty-five years, AP has offered high-performance audio analyzers, accessories and applications to help engineers worldwide design, validate, characterize and manufacture consumer, professional and industrial audio products. Ongoing innovation has been a key theme for the organization since its founding, with market-leading THD+N performance, a wide range of digital interfaces, software that combines power with ease-of-use, and tools for electro-acoustic and perceptual audio testing.
Headquartered in Beaverton, Oregon, AP is today part of Axiometrix Solutions, a leading test solutions provider comprised of globally-recognized measurement brands, including GRAS Sound & Vibration, and imc Test & Measurement.
https://www.ap.com