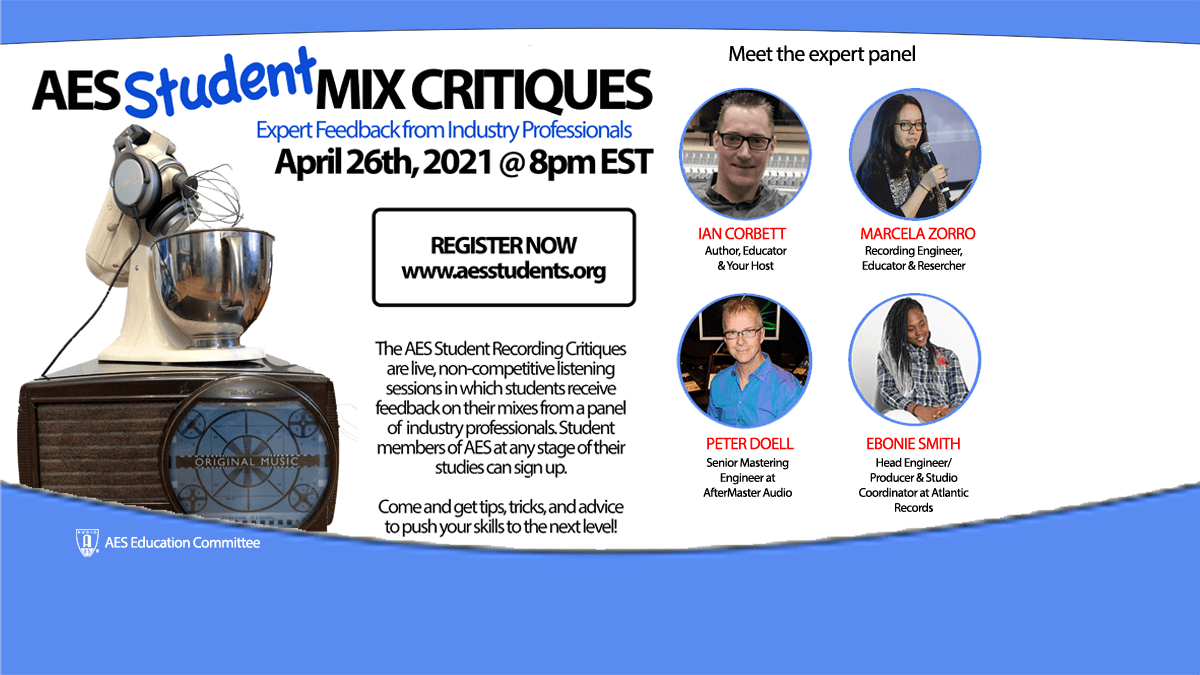 AES Student Mix Critiques

These sessions are an opportunity for selected AES student members to receive feedback on their mixes from a panel of industry professionals, in a live, non-competitive setting. All AES student members (and other members allied to education) are welcome to view the events. Join us to hear mixes by other students, and get tips, tricks, and advice to push your skills to the next level! Selection procedures for each event will vary, so stay tuned to this page and AES social media pages to keep up to date on how to submit a mix for consideration. Maybe one of your mixes can be featured in a future session!
Hosted By Dr. Ian Corbett
Ian Corbett is Coordinator and Professor of Audio Engineering at Kansas City Kansas Community College. He also owns and operates "off-beat-open-hats – recording and sound reinforcement", specializing in servicing the needs of classical and jazz ensembles in the Kansas City area. Ian's book "Mic It! — microphones, microphone techniques, and their impact on the mix" was published by Focal Press in 2014, and he also authors articles for Sound On Sound ("The Worlds Best Recording Technology Magazine"). Since 2004 he has been a member of the Audio Engineering Society's Education Committee, and has presented, mentored, and served on panels at local, regional, national, and international AES events, as well as many other professional industry events throughout the USA, Europe and Central and South America, and Asia. He has also been a member of the Producers & Engineers Wing of the National Academy of Recording Arts and Sciences. Ian holds a Doctor of Musical Arts degree in composition from the University of Missouri-Kansas City, and he can frequently be found playing saxophone in Kansas City's jazz clubs and restaurants.